EVENTS THAT MAKE
A DIFFERENCE
Getting involved is as easy as attending a fundraising event, participating in one of our partner's events or promotions, or creating your own online fundraising campaign. 
Featured Events
Our featured events offer you a way to get involved with our mission to provide weeklong, cost-free vacations to children with life-threatening illnesses and their families.

Third-Party Fundraising Events
Support some of the people that support the Village by attending a third-party fundraising event.
Comedy for Kids
Join us for a night full of laughs benefitting the Village.
view details
2016 Hearts of Reality Weekend
Support the Village and meet some of your favorite reality TV stars.
view details
19th Annual Holiday Isle Oceanfront Resort Poolside Beach Party & BBQ
Join us for some beachside sun, fun, and support for the Village!
view details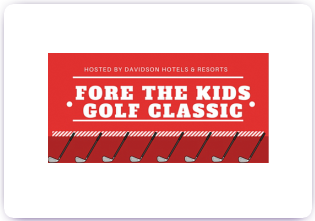 Fore the Kids
Fore! Join us at this golf tournament benefiting GKTW.
view details
U.S. Miniature Golf 100 Year Anniversary
Celebrate the 100th anniversary of mini-golf in the United States and help support the Village by purchasing a 100-year commemorative golf ball.
view details
Ongoing Campaigns
Enjoy savings on the products you love while supporting the Village.