Give Kids The World Village Unveils New Towne Hall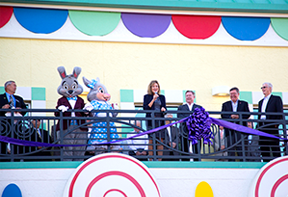 Media Contact
Jessica Mueller
Social Media/Content Strategist
407.396.1114 ext. 4519
JessicaM@gktw.org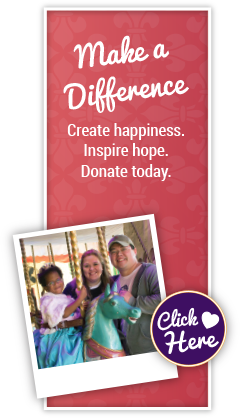 KISSIMMEE, FL (Oct 16th, 2015)
Give Kids The World Village, a nonprofit resort for children with life-threatening illnesses and their families, unveiled its new Towne Hall administration building today, designed to enhance the guest experience for the hundreds of families on property each week.
The long-awaited, 53,000-square-foot Towne Hall took more than a year to build, and was designed by C. T. Hsu & Associates and built by Welbro Building Corporation.
In keeping with the fanciful architecture and child-friendly feeling found throughout the 79-acre resort, the exterior of the two-story building is covered in vibrant, primary colors reflecting Towne Hall's whimsical design and candy-coated theme.
The building brings all of the Village's restaurants into one new food court on the ground floor. Dubbed Café Clayton, the food court is operated with the generous help of corporate partners Perkins Restaurant & Bakery, Boston Market and Papa John's Pizza. Also on the lower floor is The Hoppening Place, a spacious multi-purpose room that is perfect for entertaining guests during inclement weather.
The west side of Towne Hall also connects to a newly renovated Gingerbread House, a longtime Village icon. The Gingerbread House previously served as the kitchen and dining hall of the Village. With the opening of Café Clayton, it will be used exclusively for dining.
The second floor houses Give Kids The World Village's administrative offices.