Give Kids The World Village Earns Perfect Score From Charity Navigator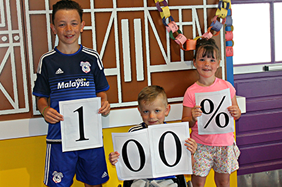 Media Contact
Jessica Mueller
Social Media/Content Strategist
407.396.1114 ext. 4519
JessicaM@gktw.org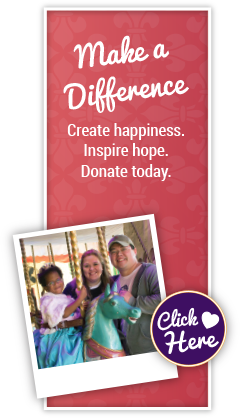 Kissimmee, FL (Jun 6th, 2016)
Give Kids The World Village, a nonprofit resort for children with life-threatening illnesses, has received a perfect score of 100 and a four-star rating for financial health, accountability, and transparency from the nation's leading independent evaluator of charities.
Charity Navigator announced the perfect score last week, saying that less than 1 percent of the thousands of organizations it reviews annually earn such a score. This year, Give Kids The World was one of just 49 nonprofits across the country to receive perfect marks.
The score earned Give Kids The World Village its 13th consecutive four-star rating – the highest possible – from Charity Navigator. Charities with perfect scores "execute their missions in a fiscally responsible way while adhering to good governance and other best practices," Charity Navigator said on its website. "We applaud these charities for exceeding industry standards and outperforming other organizations doing similar work."
Give Kids The World President and CEO Pamela Landwirth said she was gratified the organization scored so highly. The Village, she said, works tirelessly to ensure donations support its core mission of providing cost-free, whimsical vacations to children with life-threatening illnesses and their families.
"We are honored and thrilled to receive a perfect score from Charity Navigator," said Landwirth. "Using our donations wisely is at the heart of our ability to create the happiness that inspires hope for our guests."
This is the 13th year in a row that Give Kids The World Village has received a four-star rating from Charity Navigator, which tracks more than 8,000 organizations. The Village was also cited for its financial efficiency: Nearly 92 cents of every dollar it spends goes to services for the children and families it hosts.
Give Kids The World Village is a 79-acre, nonprofit resort built exclusively for children with life-threatening illnesses and their families who wish to visit Orlando's theme parks and other attractions.
The Village provides accommodations, meals, transportation, entertainment and much more. The weeklong vacation is cost free to families, and no child is ever turned away.
Now celebrating its 30th anniversary, Give Kids The World has hosted more than 146,000 families from all 50 states and 75 countries.