2016 Gingerbread Run 5K: Run, Walk or Roll to Make a Dream Come True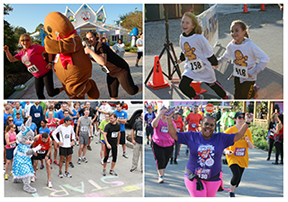 Media Contact
Jessica Mueller
Social Media/Content Strategist
407.396.1114 ext. 4519
JessicaM@gktw.org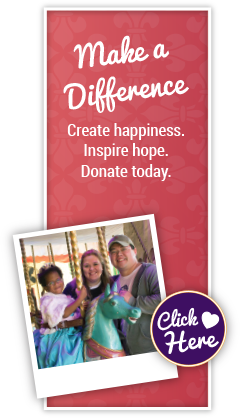 Kissimmee, FL (Sep 7th, 2016)
People all over the country are creating teams, collecting donations and gearing up for the annual Give Kids The World Gingerbread Run 5K, a run, walk and roll through a whimsical nonprofit resort that makes vacation dreams come true for children with life-threatening illnesses and their families.
But many participants won't be gathering on run day with the hundreds of racers on site in Kissimmee, Florida. They will be in Colorado, Texas, Missouri and other states, running, walking, rolling in wheelchairs and even riding bikes to be in solidarity with those at the Village.
As a Gingerbread Run Virtual Runner, these supporters are creating their own events on race day, November 12. They're doing it all in the name of raising money to help make wishes and dreams come true for nearly 8,000 families a year that stay at the Village to visit Central Florida's world famous theme parks and other attractions.
One such team is GKTW Alumni family Dan Boyle and his 15-year-old daughter Courteney, who gets around in a wheelchair. Dad and daughter have done more than two dozen races together. Dan pushes, and Courteney rides.
From 5Ks to half-marathons, running is a celebration of life for the Boyles. And, even though they will be running from their hometown in Cleveland, this race is near and dear to their hearts.
While the Boyle family is going virtual this year, another is traveling all the way from Alaska to run the course and deliver their donations in person. The Alaska Angels were the run's top fundraising team last year, raising more than $12,600. They are friends and relatives of Alyc, an Alumni wish child whose family stayed at the Village in 2012.
This annual Gingerbread Run 5K, sponsored by Mears Transportation, invites the public for a rare look inside the 79-acre Orlando-area property where children with life-threatening illnesses and their families take cost-free, weeklong vacations.
Thousands of families arrive from all over the world each year to stay in the Village's spacious villas, enjoy meals, treats and a wide variety of entertainment options, as well as visit Walt Disney World, SeaWorld Orlando and Universal Orlando, and other Central Florida theme parks.
For those on property, the race is scheduled to begin at 8 a.m. It leads participants on a 3.1 mile trip through a child's fantasyland: past a mystical castle, a snoring tree and a magical carousel. Runners and walkers even travel around a life-sized game of CANDY LAND, where they meet Queen Frostine and Princess Lolly.
The run is fun for everyone: novice, professional, onsite and, of course, virtual runners! Race registration is $40 from now to Oct. 15; $45 from Oct. 16 to Nov. 11; and $50 the day of the race. Race registration for juniors (ages 2 to 12) is $20 with a paid adult. All participants, in person and virtual, receive a 2016 race medal and a gingerbread cookie.
For information on participating in person or virtually, or becoming a sponsor in this year's Gingerbread Run 5K, visit www.gingerbreadrun.org.