Health, Fitness, Fantasy Makeovers Find Rockin' New Home at Give Kids The World Village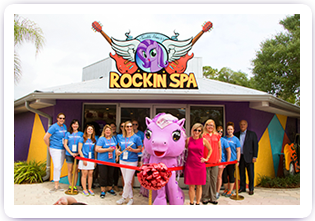 Media Contact
Jessica Mueller
Social Media/Content Strategist
407.396.1114 ext. 4519
JessicaM@gktw.org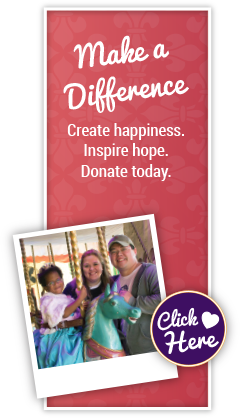 Kissimmee, FL (May 19th, 2017)
Give Kids The World Village today opened the new Twinkle Hope's Rockin' Spa, a salon and fitness center where children with life-threatening illnesses and their families can get a fun makeover, and adults can squeeze in a quick workout during their wish trip to the nonprofit resort in central Florida.
The new spa, renovated with the help of a $150,000 contribution from Hasbro, Inc., offers expanded hours and new salon services. It also adds a fitness center, the G.I. JOE Gym, something many visiting families said they would like to see at the Village.
"We are so excited to offer this to our guests," said GKTW President & CEO Pamela Landwirth. "Our visiting wish kids can become anything they imagine at the spa, and families will be able to keep up with their exercise routine. We are so grateful to Hasbro, whose gift has given us the opportunity to create this fantastic new amenity for our guests."
Named after Twinkle Hope, a MY LITTLE PONY character Hasbro created for Give Kids The World Village, the new spa is designed to appeal to boys and girls of all ages. The décor is a rock 'n' roll explosion of color – deep pinks, purples and electric blues – with an electric guitar at the entrance and stations that evoke different musical styles.
The spa offers airbrush tattoos, face painting, hand massages, manicures and make up. It features a new "crazy hair" station where trained volunteers will style guests with colored hair spray, colored hair chalk, and adornments such as flowers and tiaras – even airbrush tattoos for bare skin.
These services were previously available only by appointment and during so-called "personalizations" for children, primarily girls wanting a princess make-over. Now, anyone can have fun with their look!
The spa also will have a selfie station where guests can take pictures and show off their new look to their friends and families through their social channels.
The three-panel backdrop puts the children on a red carpet lined with velvet ropes with the "Give Kids The World" sign behind them – evoking the famous "Hollywood" sign. It's the perfect place for their very own paparazzi to take a lot of pictures.
Inside the venue, guests will have access to a fitness center for the first time at the Village. The G.I. JOE Gym features a treadmill, an elliptical machine, exercise bicycles and other workout equipment. This new addition was part of Hasbro's overall support of the spa renovation.
"One of the countless things that makes Give Kids The World so special is the importance they place on being inclusive of the entire family that stays with them," said Karen Davis, senior vice president, Global Philanthropy & Social Impact, Hasbro, Inc. "We're proud that two of our iconic brands, MY LITTLE PONY and G.I. JOE, will be part of this new experience where parents and kids can refresh and revitalize during their stay at the Village."
For more than a decade, the global play and entertainment company has been a supporter of Give Kids The World, providing an annual grant as well as toys and games to support the Village's Winter Wonderland party, and in 2008, built Matthew's Boundless Playground, a CANDY LAND themed, fully accessible play area. Each family that visits Give Kids The World also takes home a special edition CANDY LAND board game featuring many Village attractions.
Companies that also contributed to the spa renovation were Target, which gave $12,000 as part of a volunteer activity, and Florida's Workers Comp Institute, Inc., which gave $10,000 to the cost, as well as Mader Southeast construction.
The previous spa was in the Village's Castle of Miracles. The old location will now be transformed into a star observatory making room for new wish stars – the small, gold stars placed on the ceiling to commemorate each wish child's stay at the Village.