Perkins Golf Fundraiser Brings Smiles to GKTW
Media Contact
Jessica Mueller
Social Media/Content Strategist
407.396.1114 ext. 4519
JessicaM@gktw.org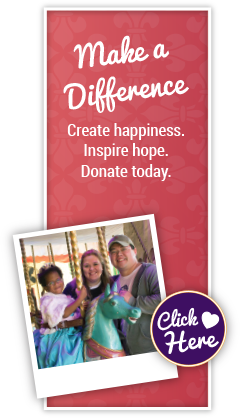 Kissimmee, FL (Jul 28th, 2017)
Every morning, the smell of freshly made pancakes greets GKTW families when they arrive at Café Clayton for breakfast.
For more than 30 years, Perkins Restaurant & Bakery has made that possible, serving up thousands of nutritious, cost-free meals at "Nancy's Kitchen" and raising money for the Village at its franchise locations.
No franchisee works harder for the Village than Homer "Scotty" Scott, Jr., of Wyoming. His fourth annual "Swinging for Smiles" charity golf event this year brought in $55,000 for the Village, and lifted the event's four-year total to $165,000
The money helps GKTW provide weeklong, cost-free vacations to children with life-threatening illnesses and their families at the Village's nonprofit, "storybook" resort in Central Florida.
Scotty and his family – with help from Perkins general managers Bob Allen and Roger Hefner, Franchise Consultant Mike Amos, and golf pro Todd Bleidner – drew a record crowd to this year's event. The 42 teams included former Denver Broncos players Joel Dreessen, Spencer Larsen, and Erik Pears, and Altitude Television host Vic Lombardi.
A heartfelt thank you to everyone who was part of the fourth annual "Swinging for Smiles." We are fortunate to have corporate partners like Perkins extend their kindness and generosity to our wish families every day.