Give Kids The World Partners With Wyndham Vacation Ownership To Launch "Extreme Village Makeover"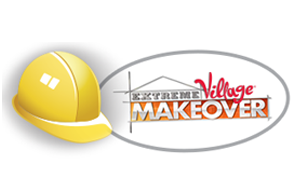 Media Contact
Jessica Mueller
Social Media/Content Strategist
407.396.1114 ext. 4519
JessicaM@gktw.org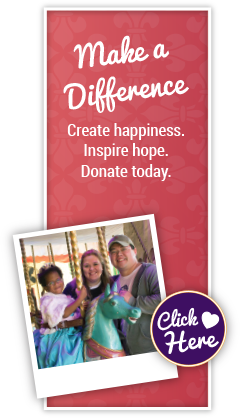 KISSIMMEE, FL (Apr 29th, 2013)
Pamela Landwirth, president of Give Kids The World, and Gary Rall, vice president of resort renovation and design, WVO, kicked off the project at the 2013 Commercial Construction & Renovation Summit, led by David Corson, publisher and editor of Commercial Construction and Renovation magazine.
The Extreme Village Makeover, scheduled to take place January 12-25, 2014, will makeover 100 of the 140 villas at Give Kids The World Village, updating the whimsical accommodations for families visiting for a week-long, cost-free fantasy vacation to upgraded hospitality standards. Construction will last two weeks with crews on-site 24 hours a day. The scope of work will include cosmetic and structural upgrades including: wood replacement, stucco and drywall repair, tile work, installation of new countertops, fixtures and crown molding, exterior and interior painting and electrical updates, just to name a few.
"Give Kids The World is an amazing organization and we're very excited to be a part of this monumental project," said Rall. "We need a lot of people to make this vision a reality. At this point, we're calling all members of the construction and design industry to come forward and join us in making a difference by donating or deeply discounting their products, expertise or time. This will truly be a once-in-a-lifetime experience, helping families of children with life-threatening illnesses for decades to come."
"We couldn't be more excited about the Extreme Village Makeover, especially since it will be completed right before the 25th anniversary of the Village," said Landwirth. "With more than 185 resorts across the country, Wyndham is truly an expert at large-scale renovation and design projects. We are extremely grateful to have their team spearhead this monumental initiative which will provide an updated 'home away from home' for thousands of families every year. Their dedication is greatly appreciated."
Vendors, contractors and volunteers must sign up online by June 1 in order to participate in the Extreme Village Makeover.
To register, visit www.givekidstheworld.org/makeover/ or contact Gary Rall at Gary.Rall@wyn.com or 407-626-6411, or Michael Bausman, Director of Facilities for Give Kids The World at MichaelB@gktw.org or 407-396-1114 x4240.
###
About Wyndham Vacation Ownership
Wyndham Vacation Ownership, a member of Wyndham Worldwide's (NYSE: WYN) family of companies, is the world's largest vacation ownership business, as measured by the number of vacation ownership resorts, individual vacation ownership units and owners of vacation ownership interests. Wyndham Vacation Ownership develops, markets and sells vacation ownership interests and provides consumer financing to owners through its four primary consumer brands, CLUB WYNDHAM®, WorldMark by Wyndham, Wyndham Vacation Resorts Asia Pacific and Shell Vacations. As of December 31, 2012, Wyndham Vacation Ownership had developed or acquired more than 185 vacation ownership resorts throughout the United States, Canada, Mexico, the Caribbean and the South Pacific that represent more than 23,000 individual vacation ownership units and more than 900,000 owners of vacation ownership interests. Wyndham Vacation Ownership is headquartered in Orlando, Fla., and is supported by more than 15,000 employees globally.
Wyndham Vacation Ownership Media
Lindsay Graham
Manager, Corporate Communications
Wyndham Vacation Ownership
(407) 626-4158
Lindsay.Graham@wyn.com