Give Kids The World Honored as 2013 Top-Rated Nonprofit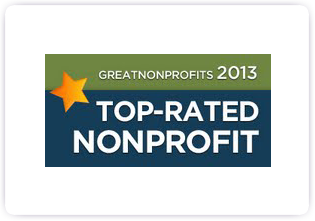 Media Contact
Jessica Mueller
Social Media/Content Strategist
407.396.1114 ext. 4519
JessicaM@gktw.org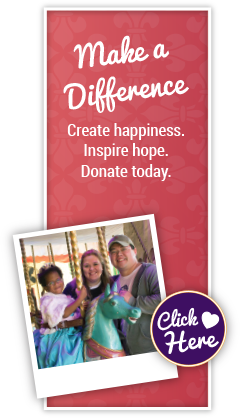 (Oct 31st, 2013)
Give Kids The World Village (GKTW), a nonprofit "storybook" resort for children with life-threatening illnesses and their families, has been honored with a prestigious 2013 Top-Rated Award by GreatNonprofits, the leading provider of user reviews about nonprofit organizations.
The Top-Rated Nonprofit award was based on the large number of positive reviews that Give Kids The World received – reviews written by volunteers, donors and guests. Many people were eager to share their life-changing experiences while at the Village. For example, one person wrote, "After my daughter was diagnosed with a life-threatening illness, our lives were turned upside down. A week at GKTW world changed that. We smiled non-stop, our daughter danced and sang again and we felt normal for the first time in a very long time."
"We are excited to be named a Top-Rated Nonprofit for 2013," Pam Landwirth, GKTW president said. "We are especially grateful to our alumni families for sharing their heartfelt stories of how their experiences at the Village created the happiness that inspires hope, and to our donors and partners for sharing the difference Give Kids The World has made in their lives. They truly illustrate our mission in action."
While the Top-Rated Award applications run through the end of October, Give Kids The World was part of the inaugural group to qualify for the year.
"Savvy donors want to see the impact of their donations more than ever," said Perla Ni, CEO of GreatNonprofits, "People with direct experience with Give Kids The World have voted that the organization is making a real difference."
Being on the Top-Rated list gives donors and volunteers more confidence that this is a credible organization as it continues to create treasured memories for children with life-threatening illnesses and their families. The reviews by volunteers, guests and other donors illustrate the dreams that come true through the happiness that inspires hope found at the Village. Give Kids The World Village is a place unlike any other. It's a world governed by a giant rabbit, ice cream is endless and having fun is a full-time endeavor. It's a place where miracles happen daily and the magic of childhood abounds.
For more information on Give Kids The World or to make a donation, please visit www.gktw.org.
###
About GreatNonprofits
GreatNonprofits is the leading site for donors and volunteers to find reviews and ratings of nonprofits. Reviews on the site influence 30 million donation decisions a year.