Give Kids The World Earns Coveted 4-Star Rating From Charity Navigator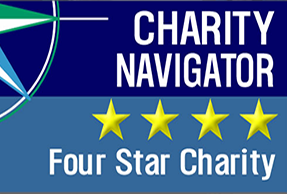 Media Contact
Jessica Mueller
Social Media/Content Strategist
407.396.1114 ext. 4519
JessicaM@gktw.org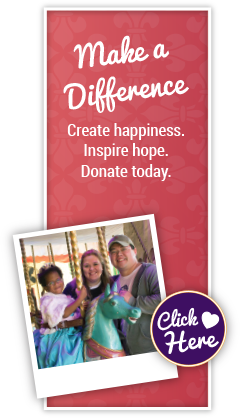 KISSIMMEE, FL (Jan 1st, 2014)
Give Kids The World Village (GKTW), a nonprofit "storybook" resort for children with life-threatening illnesses and their families, has been awarded a 4-star rating for sound fiscal management and commitment to accountability and transparency for the ninth consecutive year by Charity Navigator, America's largest and most-utilized independent evaluator of charities.
"We are honored to have received Charity Navigator's highest rating for nine consecutive years," said GKTW President Pamela Landwirth. "This prestigious honor assures supporters that their donation to Give Kids The World is used efficiently to provide a week of magical memories that inspire hope for more than 7,200 children with life-threatening illnesses and their families every year."
"The coveted 4-star rating puts it in a very select group of high-performing charities," according to Ken Berger, President and CEO, Charity Navigator. "Out of the thousands of nonprofits Charity Navigator evaluates, only one out of four earns 4 stars -- a rating that, now, with our new Accountability and Transparency metrics, demands even greater rigor, responsibility and commitment to openness. Give Kids The World's supporters should feel much more confident that their hard-earned dollars are being used efficiently and responsibly when it acquires such a high rating."
Financial health, transparency, operational efficiency and percentage of budget spent on programs related to the charity's mission were all criteria that Charity Navigator considered before awarding the charity with the "exceptional" rating. For each dollar spent by GKTW in fiscal year 2013, approximately 92 cents went directly towards the organization's mission. Charity Navigator also recognized GKTW for its exceptional fundraising efficiency, spending only 7 cents to raise $1 in charitable contributions.
The organization has consistently been recognized as a top-rated charity for exemplary use of its resources, earning BBB Accreditation from the BBB Wise Giving Alliance for meeting all 20 standards for Charity Accountability, a One Palm certification from the Florida Green-Lodging Association for its green practices at the resort and recognition from the Orlando Sentinel as a Top 100 Company for Working Families. GreatNonprofits of 2013 rated GKTW as a "Top-Rated Nonprofit," Worth Magazine named GKTW as the most fiscally responsible charity in America and personal finance website MainStreet.com recognized the organization as the highest-rated charity in the country.
Since 1986, Give Kids The World has helped to fulfill the wishes of more than 122,000 children with life-threatening illness from around the world whose one wish is to visit Orlando. GKTW provides these children and their families with a weeklong, cost-free retreat at its 70-acre fairytale resort. Here, families are provided accommodations in whimsical villas, transportation, donated attraction tickets, meals, and much more. At the Village, these precious children learn that dreams really do come true, as they and their families are immersed in joy, hope, and non-stop fun for a few unforgettably happy days.
For more information on Give Kids The World or to make a donation, please visit www.gktw.org.