Celebrity Chef Emily Ellyn Official Spokesperson for Ice Cream For Breakfast 2014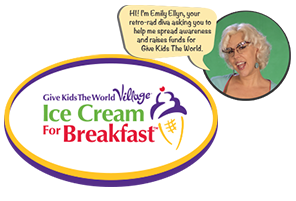 Media Contact
Jessica Mueller
Social Media/Content Strategist
407.396.1114 ext. 4519
JessicaM@gktw.org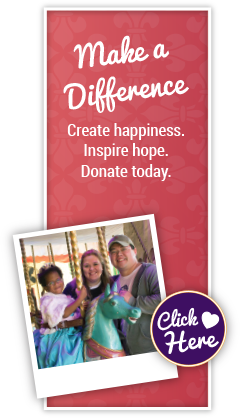 KISSIMMEE, FL (Apr 9th, 2014)
Celebrity chef and Retro Rad Diva Emily Ellyn is taking on one of her sweetest challenges yet as she joins Give Kids The World as Spokesperson for Ice Cream For Breakfast 2014. The Ice Cream For Breakfast campaign encourages individuals, families and corporations to support GKTW by hosting an ice cream social fundraiser. She's kicking off her "Retro Rad" role with a contest called Ice Cream Wake Up, a family video competition anyone can participate in which will benefit Give Kids The World Village, a resort that provides week-long, cost-free vacations and magical memories for children with life-threatening illnesses and their families.
A Food Network Star finalist in 2011, and now known as the Retro Rad Diva, Emily Ellyn is joining an incredibly dedicated team of volunteers in her spokesperson role.
Says Emily, "I'll be sharing the scoop with moms everywhere on how to bring neighborhoods, communities and families together over summer break through Ice Cream For Breakfast fundraising socials. We'll add some Retro Rad nostalgia, my hostess and cooking tips, and raising funds and awareness for the Give Kids The World will be the cherry on top!"
Emily Ellyn and Give Kids The World invite parents to surprise their children by serving them Ice Cream For Breakfast one morning, capturing the reactions on video, and sharing those videos via social media using the hashtag #IceCreamWakeUp. If they let Give Kids The World know they joined the fun at www.IceCreamForBreakfast.org/video, by April 17, 2014, they will be entered to win a fabulous prize! Then, from late April through May, Give Kids The World will share "mash-ups" of the funniest, sweetest, most unusual and joyous reactions.
After Ice Cream Wake Up, Emily will continue to reach out nationwide from now until summer's end to moms, their kids and other volunteers to ask them to host an Ice Cream For Breakfast 2014 fundraising social. She'll provide tips and inspiration to make each social a fun and effective way of sharing the Give Kids The World mission while raising vital funds to support that mission.
###
About Ice Cream For Breakfast 2014
For those who wonder what one person can do to help thousands of kids, the "Ice Cream For Breakfast 2014" campaign answers that question. As Give Kids The World President Pamela Landwirth notes, "This year we are launching a campaign designed to make it easy for anyone, regardless of where they live, who wants to help our beautiful children." The campaign was inspired by a Village wish family who celebrates the anniversary of their trip by eating ice cream for breakfast, just as they did in the Ice Cream Palace at the Village. The Ice Cream For Breakfast campaign officially launches in June and will continue throughout summer.
###
About Emily Ellyn
Chef and culinary educator Emily Ellyn is the Home Economics teacher you've always wanted! She single handedly started the Retro Rad cooking movement and encourages everyone to dig through their mother's recipe box, dust off their pressure cookers and crock pots, and take the old and make it new. She takes the retro, remixes it, and makes it RAD. With her quirky persona and trademark cat-eye glasses, you'll find Emily cooking at food events around the world, lecturing or hosting special events, and doing brand consulting – all while developing her Retro Rad culinary TV career and finishing her Ph.D. in Food Service Education. Through it all, she's gained a loyal following. You've seen her on Food Network's "Food Network Star," "Cupcake Wars" and morning news shows across the country – as well as a cameo cartoon appearance on the "Simpsons!