Towne Hall Nearing Completion at Give Kids The World Village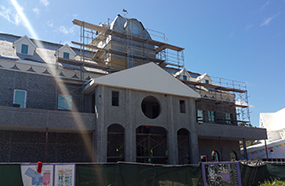 Media Contact
Jessica Mueller
Social Media/Content Strategist
407.396.1114 ext. 4519
JessicaM@gktw.org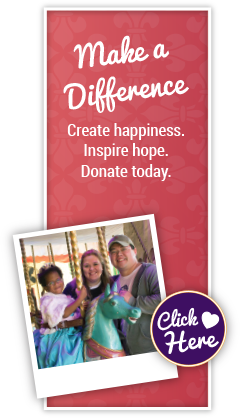 KISSIMMEE, FL (Mar 19th, 2015)
The construction of a 53,000 square foot building set adjacent to a Gingerbread House, an Enchanted Carousel and a Castle of Miracles is nearly complete at Give Kids The World Village. The new "Towne Hall" will house evening entertainment events, a food court, meeting facilities, a gathering hall and staff offices.
Give Kids The World Village provides free week-long vacations to kids with life-threatening illnesses and their families and has helped more than 135,000 of them come to Central Florida since it opened in 1986.
As part of its service to wish families, the Village provides all of the food, housing, tickets to theme parks and even its own entertainment programming every evening. Of course, it rains nearly every afternoon and evening in Central Florida in the summer months, and the Village has had no facility large enough to host the nightly entertainment events. Towne Hall will be a welcome addition and is set to open mid-2015 with a ribbon-cutting ceremony slated for August 2015.