Give Kids The World Serves Over 5 Million Scoops and Smiles to Visiting Wish Families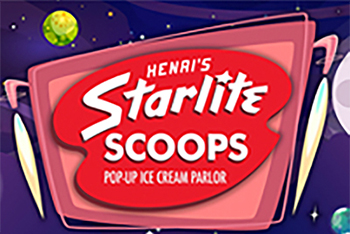 Mar 31st, 2019 [Kissimmee, FL]
Today marked the end of an era at Give Kids The World Village, as the Village served the last scoops of ice cream from the 20-year-old Ice Cream Palace. The iconic venue will soon be replaced by Henri's Starlite Scoops, a new ice cream parlor named for the Village's founder, Henri Landwirth.
Give Kids The World is well-known for serving "ice cream for breakfast," with the Ice Cream Palace opening at 7:30 a.m. and scooping until 9:00 p.m. Since its founding, Give Kids The World has served approximately 5 million scoops of ice cream.
For the past 20 years, guests have enjoyed sundaes, shakes and banana splits in a building designed just like those delicious desserts - complete with bananas, whipped cream and even a cherry on top.
Today, wish families, volunteers, and staff said farewell to the Ice Cream Palace and celebrated the coming of a new ice cream parlor: Henri's Starlite Scoops.
The new location will be a retro space-themed tribute to its founder, Henri Landwirth, who began his hospitality management career operating the Starlite Motel in Cocoa Beach during the 1950's. The motel was a hotspot for Mercury 7 astronauts during the early days of space exploration.
"Henri's Starlite Scoops will offer an experience to visiting wish families we simply couldn't offer at the Ice Cream Palace," said Give Kids The World spokesperson, Jessica Mueller. "It will feature lower countertops, allowing children of all abilities to see and select their own ice cream, and a more open concept, which will allow volunteers to easily interact with our guests."
Give Kids The World will begin construction of Henri's Starlite Scoops on January 30, 2019. During construction, the nonprofit will continue the tradition of ice cream for breakfast, lunch and dinner at Henri's Starlite Scoops-Pop Up. This temporary parlor will be located inside the resort's Gingerbread House dining facility.
"Children with critical illness face countless appointments, treatments, and hospital stays. They're often told 'no' due to the limitations of their illness. But, here at the Village, we make sure it's a week of 'yes'. That won't change while we're constructing the new parlor," said Mueller.
---
About Give Kids the World Village
Give Kids The World Village is an 89-acre, nonprofit resort built exclusively to serve critically-ill children and their families. Children visiting Central Florida on their "wish trips," stay with their families at Give Kids The World's storybook Village for week-long, dream vacations. Give Kids The World provides meals, transportation, nightly entertainment, and complimentary passes to Orlando's world-famous theme parks and other attractions. There is never any charge to visiting families, and no child is ever turned away. Since 1986, Give Kids The World Village has served more than 188,000 children and families from all 50 states and 77 countries. GKTW is four-star rated by Charity Navigator, with more than 90 cents of every dollar it spends going to program services.
For more information, contact Give Kids The World Village Public Relations manager, Cindy Elliott.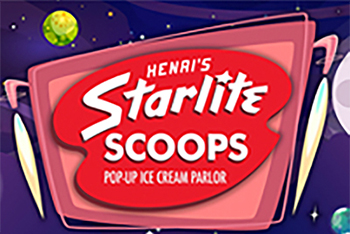 Media Contact
Cindy Elliott
Public Relations
562.896.1177
CindyE@gktw.org
---

Download PDF