VOLUNTEER
Volunteering at Give Kids The World Village inspires hope, creates priceless memories, and helps kids with life-threatening illnesses and their families celebrate life. It means being a part of an organization that is truly unique. And it means giving your best and feeling your best.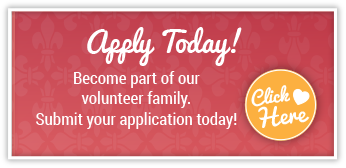 While our resort is still temporarily closed as a direct result of COVID-19, we have a variety of volunteer opportunities available to help us prepare our facilities for the time when the Village eventually reopens. We are also in need of volunteers to assist with special events hosted at the Village!
With more than four million volunteer hours logged, over a quarter of a million volunteers have shared countless heart-to-heart moments like these.
Whether you're in the Central Florida area, interested in a volunteer vacation, or an Alumni Family wanting to give back, we invite you to apply today to become a part of our volunteer family.