Give Kids The World Village to Host Night of a Million Lights Holiday Spectacular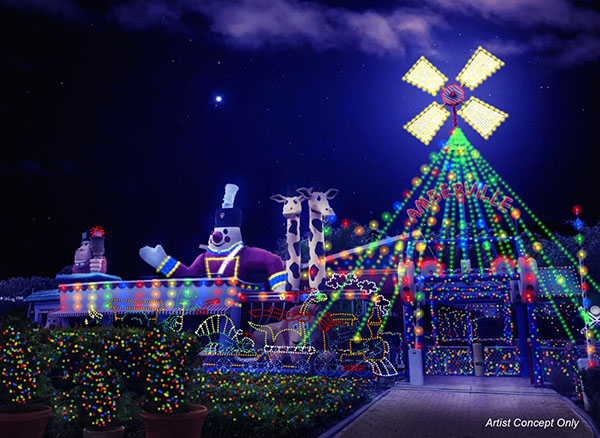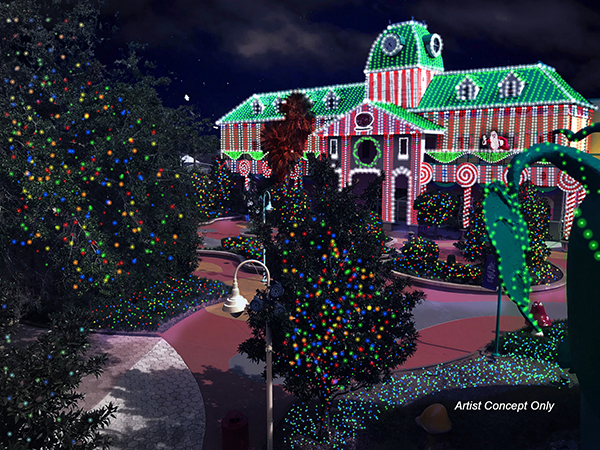 Oct 23rd, 2020 [Kissimmee, Fla.]
Walt Disney World Resort's donation of more than three million sparkling lights will transform Give Kids The World Village in Kissimmee, Florida, into a bright and merry wonderland during Night of a Million Lights – a walk-through, socially distanced holiday light spectacular. Debuting November 13 through January 3, the event will provide the public with a rare glimpse into the magical, whimsical non-profit resort that fulfills the wishes of critically ill children from around the world.
Dazzling lights and larger-than-life holiday displays will illuminate the 89-acre resort, including a glittering 150-foot tunnel along the Avenue of Angels; more than 50 holiday-themed wireframes, some spanning more than 40 feet; an enchanting gingerbread arch; and out-of-this-world space-themed decor adorning the Village's delectable new centerpiece, Henri's Starlite Scoops.
More than 45 treasured partners will be getting into the holiday spirit by adopting and decorating one of the resort's 166 family villas with their own unique designs. They include SeaWorld, LEGOLAND, Perkins, Boston Market, the Kennedy Space Center, American Airlines, Hasbro, Chick-fil-A, IAAPA, Pepsi, Unilever, Margaritaville Hotels and Resorts, and the PGA TOUR, among many others. In addition, Universal Orlando Resort will be decking out Marc's Dino Putt mini golf course with holiday inclusive lighting and musical elements. A complete list of partners can be found at www.gktw.org.
Tickets are on sale now at www.gktw.org/lights, enabling guests to stroll among the brilliant lights and take part in a variety of fun and festive activities in a safe, socially distant manner. Admission includes complimentary ice cream and hot cocoa, as well as unlimited access to the Village's wheelchair-accessible rides and attractions. The event will run from 5:00 p.m. to 10:00 p.m. daily, with staggered entry times to prevent crowding. Mask wearing will also be required for all guests.
Proceeds from the event will support Give Kids The World's mission to provide wish vacations for critically ill children and their families. When wish-granting organizations receive a request from a critically ill child who wants to visit Central Florida, Give Kids The World fulfills the wish – providing each child and his/her family with a magical week-long stay at absolutely no cost. Each family receives transportation, accommodations in one of the Village's 166 storybook residential villas, all meals and snacks, nightly entertainment, tickets to Orlando's world-class theme parks and attractions, and priceless interactive experiences at the Village. Since 1986, Give Kids The World has welcomed more than 176,000 families from all 50 states and more than 76 countries.
Give Kids The World Village closed to wish families temporarily in mid-March due to the COVID-19 pandemic, delaying nearly 6,000 wishes. Night of a Million Lights is designed to raise funds to ensure that the wishes of critically ill children can be fulfilled once the Village reopens.
"Children with critical illnesses face countless appointments, treatments and hospital stays, and they are often told "no" due to the limitations of their illness. We feel privileged to give wish children and their families a week of "yes" where they can forget their worries, experience joy, and spend precious time together," said Give Kids The World President and CEO Pamela Landwirth. "We look forward to sharing some holiday joy with the community while making it possible for future wish children to have their wishes fulfilled."
---
About Give Kids the World Village
Give Kids The World Village is an 89-acre, nonprofit resort built exclusively to serve critically-ill children and their families. Children visiting Central Florida on their "wish trips," stay with their families at Give Kids The World's storybook Village for week-long, dream vacations. Give Kids The World provides meals, transportation, nightly entertainment, and complimentary passes to Orlando's world-famous theme parks and other attractions. There is never any charge to visiting families, and no child is ever turned away. Since 1986, Give Kids The World Village has served more than 188,000 children and families from all 50 states and 77 countries. GKTW is four-star rated by Charity Navigator, with more than 90 cents of every dollar it spends going to program services.
For more information, contact Give Kids The World Village Public Relations manager, Cindy Elliott.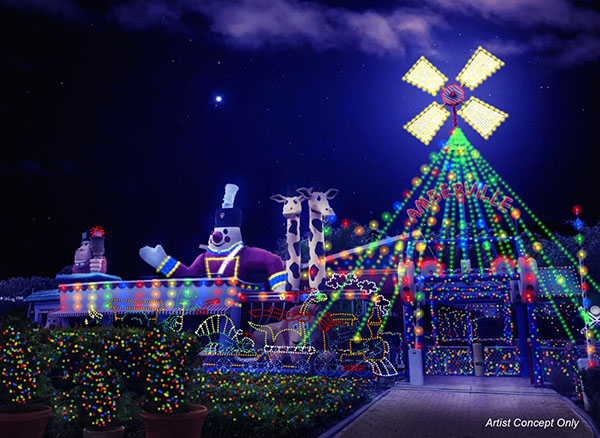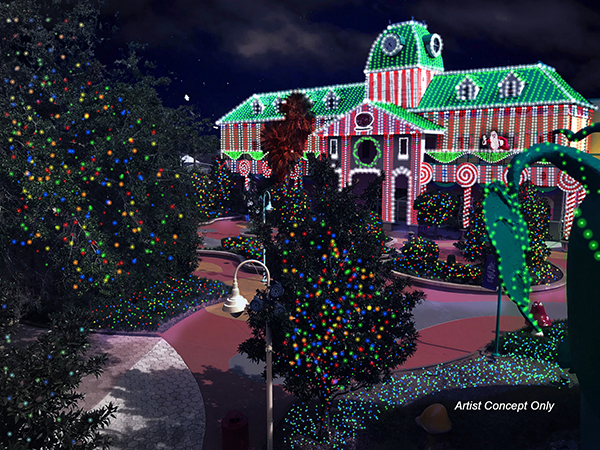 Media Contact
Cindy Elliott
Public Relations
562.896.1177
CindyE@gktw.org
---

Download PDF