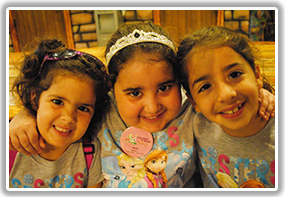 IMPACT OF A VILLAGE WISH
When a child is diagnosed with a critical illness, a family's life changes forever. They face an obstacle course littered with doctor appointments, painful treatments, overwhelming expenses and endless worry.
Parents who would do anything to see their child smile are forced to say "no" because of the risks and limitations the disease imposes. Energy vanishes, hope fades, and free time slips away.
But when a family arrives at Give Kids The World Village, they quickly realize that this is a special place. Requests are granted and limitations are eliminated: "Yes, you can have ice cream for breakfast. Yes, wheelchairs are allowed in that poolpool. Yes, you can ride the train, again."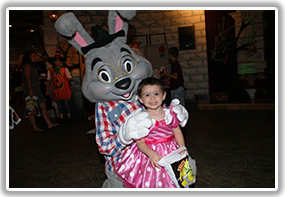 During the day, they visit world-famous attractions and theme parks of Central Florida.  In the evening, they return to a Village teeming with themed parties, events and surprises.
Each day offers an amazing experience: singing on stage at our weekly "Stellar's Star Show""Village Idol" talent show; riding a horse at Keaton's Korral;Keaton's Korral; or playing at Matthew's Boundless PlaygroundMatthew's Boundless Playground. Parents see their children smiling and laughing - things that they haven't done in weeks, months, even years.
A trip to Give Kids The World Village gives families time together, inspiring a renewed sense of hope and happiness that lasts long after they return home. In a very real sense, the Village offers the gift of time - time away from the burdens of everyday life and time to rediscover the joy of simply being together.