Give Kids The World Village for Critically Ill Children Reopens to Wish Families Today, Jan. 17, Following 10-Month Closure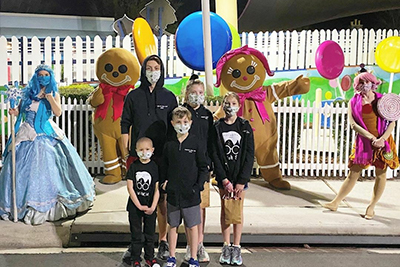 Jan 17th, 2021 [Kissimmee, FL]
Nearly 10 months to the day that it closed temporarily due to the COVID-19 pandemic, Give Kids The World Village in Kissimmee has reopened its whimsical gates! Wish families began arriving today to the Village, an 89-acre nonprofit resort that provides transformative weeklong wish vacations to critically ill children and their families at no cost. Since 1986, the Village has welcomed more than 176,000 families from all 50 states and 76 countries – with more than 6,000 wishes postponed due to the closure.
"Children with critical illnesses face countless appointments, treatments and hospital stays, and they are often told "no" due to the limitations of their illness. We are thrilled to be able to get back to our mission of providing wish children and their families with a magical week of "yes" where they can forget their worries, experience joy, and spend priceless time together," said Give Kids The World President and CEO Pamela Landwirth.
With safety as its number one priority, Give Kids The World Village will be taking a thoughtful, phased approach to reopening, beginning with a limited number of families and gradually growing its occupancy over time. Nemours Children's Hospital experts led by pediatric infectious disease clinician and researcher Kenneth A. Alexander, MD, PhD, worked closely with Give Kids The World to develop the nonprofit's comprehensive COVID-19 safety plan, which has been in effect at the Village since March.
Rated Four Stars by Charity Navigator – with 90 cents of every dollar donated going directly to program services, Give Kids The World Village was created by Holocaust survivor Henri Landwirth with an objective of never turning a wish child away. When wish-granting organizations receive a request from a critically ill child who wants to visit Central Florida, Give Kids The World fulfills the wish – providing each child and his/her family with a magical weeklong stay at absolutely no cost. Each family receives transportation, accommodations in one of the Village's 166 storybook residential villas, all meals and snacks, nightly entertainment, donated tickets to Orlando's world-class theme parks and attractions, and priceless interactive experiences at the Village.
Thanks to the outpouring of support from Village partners, volunteers, Board members, wish granting organizations and staff, the Village will celebrate its 35th anniversary on March 7, 2021. For more information, visit www.gktw.org.
---
About Give Kids the World Village
Give Kids The World Village is an 89-acre, nonprofit resort built exclusively to serve critically-ill children and their families. Children visiting Central Florida on their "wish trips," stay with their families at Give Kids The World's storybook Village for week-long, dream vacations. Give Kids The World provides meals, transportation, nightly entertainment, and complimentary passes to Orlando's world-famous theme parks and other attractions. There is never any charge to visiting families, and no child is ever turned away. Since 1986, Give Kids The World Village has served more than 187,000 children and families from all 50 states and 76 countries. GKTW is four-star rated by Charity Navigator, with more than 90 cents of every dollar it spends going to program services.
For more information, contact Give Kids The World Village Public Relations manager, Cindy Elliott.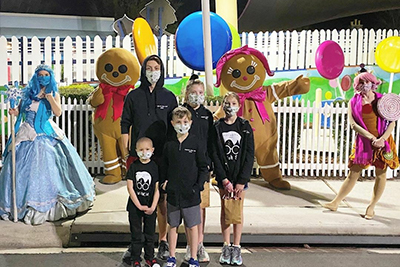 Media Contact
Cindy Elliott
Public Relations
562.896.1177
CindyE@gktw.org
---

Download PDF