Gingerbread Run 2015 Participants Raise Funds for Give Kids The World Village in 5K Fun Run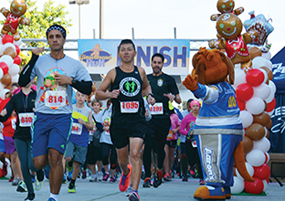 Media Contact
Jessica Mueller
Social Media/Content Strategist
407.396.1114 ext. 4519
JessicaM@gktw.org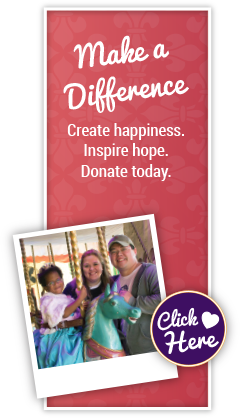 KISSIMMEE, FL (Nov 9th, 2015) Hundreds of running enthusiasts and supporters will run, walk and roll through the Village for Give Kids The World's 7th Annual Gingerbread Run 5K on Nov. 14, 2015, a fun run benefiting the nonprofit resort for children with life-threatening illnesses.
More than 1,400 participants are currently registered for the annual fun run, arriving at the Kissimmee-based resort from 25 states, including a top-fundraising team making the trip from Alaska.

Another nearly 200 people are registered as "virtual runners," showing their support for the organization by sponsoring a runner or making a donation online. Many of the virtual runners also run a 5K race or participate in some other activity in their hometown as a demonstration of commitment and support. Currently, virtual runners are registered in all 50 states!
The run invites the public for a rare look inside the 79-acre property where children with life-threatening illnesses and their families take cost-free, weeklong vacations. Families arrive from all over the world and stay in the Village's spacious villa accommodations, enjoy meals, treats and a wide variety of entertainment options, as well as visit area theme parks.
The professionally-timed race is scheduled to begin at 8 a.m. and leads participants on a 3.1 mile trip through a child's fantasyland: past a mystical castle, a snoring tree and a magical carousel. Runners and walkers even travel around a life-sized game of CANDY LAND, where they meet Queen Frostine and Princess Lolly.
The family-friendly event features music, a Zumba dance warm-up, a Kids Zone with face painting, balloon animals and even a "slime" show hosted by Nickelodeon Hotel. Characters also will join in the fun, including Nickelodeon's Dora the Explorer and SpongeBob SquarePants, as well as Give Kids The World's own Mayor Clayton, Ms. Merry and Murphy the Gingerbread Man.
Registration is $45 for adults in advance and $50 on the day of the event. Registration for junior runners ages 3 to 12 is $20 with a paid adult, and $45 for virtual runners. All participants will receive a 2015 Gingerbread Run medal.
Last year's event raised over $200,000 and this year's goal is to generate as much or more to benefit kids with life-threatening illnesses. For information on participating in or becoming a sponsor in this year's Gingerbread Run 5K, visit www.gingerbreadrun.org.