Give Kids The World Village Honored for Exceptional Fiscal Responsibility for Eleventh Year by National Organization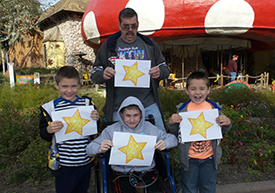 Media Contact
Jessica Mueller
Social Media/Content Strategist
407.396.1114 ext. 4519
JessicaM@gktw.org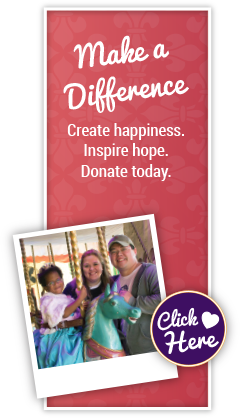 KISSIMMEE, FL (Jan 8th, 2016)
Give Kids The World Village has again earned a 4-star rating from Charity Navigator, further distinguishing itself as one of a select group of nonprofit organizations consistently demonstrating sound fiscal responsibility. This is the 11th consecutive year that America's most-utilized independent evaluator of charities has given the prestigious distinction to the Orlando-area charity.
Michael Thatcher, President and CEO of Charity Navigator, said receiving four out of a possible four stars indicates that Give Kids The World Village adheres to good governance and consistently executes its mission in a fiscally responsible way.
"Only 1% of the charities we rate have received at least 11 consecutive 4-star evaluations, indicating that Give Kids The World Village outperforms most other charities in America," he said. "This 'exceptional' designation from Charity Navigator differentiates Give Kids The World from its peers and demonstrates to the public it is worthy of their trust."
Financial health, transparency, operational efficiency and percentage of budget spent on programs related to the charity's mission were all criteria that Charity Navigator considered before giving GKTW its highest rating. For each dollar spent by GKTW in the fiscal year ending 2014, approximately 93 cents went directly to fulfilling the organization's mission.
Give Kids The World Village President and CEO Pamela Landwirth knows how important it is that supporters and donors trust that the organization is a good steward of the contributions it receives.
"We are committed to using our funds efficiently and effectively as we go about fulfilling our mission to provide magical memories for the more than 7,500 children and families we welcome each year," she said.
Give Kids The World Village – which will celebrate its 30th anniversary in 2016 – exists to provide free weeklong vacations to children with life-threatening illnesses and their families from all over the world. The 79-acre whimsical Village located in the heart of Central Florida has hosted more than 143,000 families, providing accommodations in whimsical villas, meals, theme park tickets and entertainment.
Give Kids The World Village has consistently been recognized as a top-rated charity for exemplary use of its resources. It has earned BBB Accreditation from the BBB Wise Giving Alliance for meeting all 20 standards for Charity Accountability; a One Palm certification from the Florida Green-Lodging Association for its green practices at the resort; and recognition from the Orlando Sentinel as a Top 100 Company for Working Families.
GreatNonprofits also rated GKTW as a "Top-Rated Nonprofit" in 2014; Worth Magazine named GKTW as the most fiscally responsible charity in America and personal finance website MainStreet.com recognized the organization as the highest-rated charity in the country.
For more information on Give Kids The World Village or to make a donation, please visit www.gktw.org. To stay informed of all of the Village's happenings, follow us at Twitter.com/GKTWVillage, Facebook.com/GKTWVillage and YouTube.com/GiveKidsTheWorld.
###
About Charity Navigator
Charity Navigator, www.charitynavigator.org, is the largest charity evaluator in America and its website attracts more visitors than all other charity rating groups combined. The organization helps guide intelligent giving by evaluating the Financial Health and Accountability & Transparency of more than 8,000 charities. Charity Navigator accepts no advertising or donations from the organizations it evaluates, ensuring unbiased evaluations, nor does it charge the public for this trusted data. As a result, Charity Navigator, a 501 (c) (3) public charity itself, depends on support from individuals, corporations and foundations that believe it provides a much-needed service to America's charitable givers. Charity Navigator, can be reached directly by telephone at (201) 818-1288, or by mail at 139 Harristown Road, Suite 101, Glen Rock, N.J., 07452.