ALEX AND ANI Candy Cane Charm Bangle Benefits Give Kids The World Village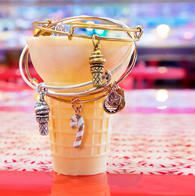 Media Contact
Jessica Mueller
Social Media/Content Strategist
407.396.1114 ext. 4519
JessicaM@gktw.org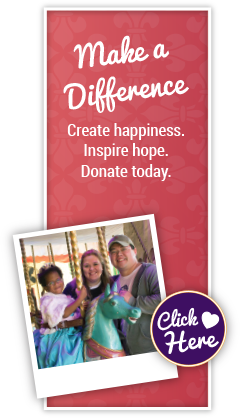 Kissimmee, FL (Nov 3rd, 2016)
ALEX AND ANI has added some extra sweetness to its CHARITY BY DESIGN Holiday 2016 Collection: a new Candy Cane Charm Bangle. The playful addition benefits Give Kids The World Village, a whimsical nonprofit resort in Central Florida that hosts children with life-threatening illnesses and their families.
After a number of weeks, months and sometimes years of doctor visits and hospital stays to treat their conditions, visiting children can finally explore their playful side. Give Kids The World Village is a place where there are never too many rides on the castle's carousel, too many sprinkles on a sundae, or too many laughs.
Give Kids The World Village is home to a number of sweet surprises, including the world's largest Candy Land game and a life-size gingerbread house, featuring classic candy canes and peppermint swirls of enormous proportions. Once each week, friends from the North Pole transform the Village into a Winter Wonderland. The evening includes a festive parade, arts and crafts, games, a visit from Santa Claus, and even a little snow.
The new ALEX AND ANI Candy Cane Charm Bangle captures this fantastic experience in a delicate bracelet. It reflects the spirit of holiday cheer, and evokes the same sense of home and happiness that families feel on their weeklong Wish trips.
The Candy Cane Bangle, crafted in Shiny Rose Gold Finish popular for its beautiful warm tone, retails for $38. ALEX AND ANI will donate 20% of the purchase price* from each Candy Cane Charm Bangle sold, with a guaranteed minimum donation of $10,000 between October 2016 and February 2017, to Give Kids The World Village.
This is the second charm created to benefit Give Kids The World Village as part of the ALEX AND ANI | CHARITY BY DESIGN Collection. In 2014, ALEX AND ANI introduced the Sweet Treats Bangle, an ice cream cone inspired by the Village's Ice Cream Palace. To date, the ALEX AND ANI and Give Kids The World Village partnership has funded 47 trips to the Village.
For more information about Give Kids The World Village and its mission, visit GiveKidsTheWorld.org. To purchase the limited edition Candy Cane Bangle, visit an ALEX AND ANI retail store, authorized retailer or shop online at alexandani.com.
*Purchase price includes sales to ALEX AND ANI retail and web customers, and authorized retailers.


About Give Kids The World Village
Give Kids The World Village is a 79-acre, nonprofit "storybook" resort, located near Central Florida's most beloved attractions, where children with life-threatening illnesses and their families are treated to weeklong, cost-free vacations. Celebrating its 30th anniversary in 2016, GKTW has welcomed more than 148,000 families from all 50 states and 76 countries. Working with more than 240 wish granting organizations, this one-of-a-kind resort is the destination for a child's wish to visit Florida's world famous theme parks. The Village has 144 whimsical accommodations and will open 24 more in fall 2016. The resort is made for children, featuring a magical castle, fully-accessible playgrounds, pools and rides, as well as all donated theme park tickets, meals and entertainment free to all members of the family.
About ALEX AND ANI
Headquartered in Rhode Island, ALEX AND ANI creates jewelry and accessories that empower the spirit and connect humanity. Their meaningful designs incorporate powerful symbolism and provide a vehicle for consumers to express their individuality through the jewelry they wear and the causes they support. Carolyn Rafaelian, Founder, CEO, and Chief Creative Officer, believes that every individual brings their own individual power to the world. ALEX AND ANI is committed to giving back to the world that we live in. By using recycled materials with eco-conscious processes and through its philanthropic CHARITY BY DESIGN division, ALEX AND ANI positively impacts our planet and our communities. CHARITY BY DESIGN partners with non-profits worldwide, and has been instrumental in raising more than $37MM for charity. An Inc. 500 Company, ALEX AND ANI has retail stores as well as retail partners worldwide. ALEX AND ANI products are proudly designed and crafted in America and made with love. To view the collections, locate an authorized retailer or shop online, visit alexandani.com.