Three Organizations, Two Donations, One Cause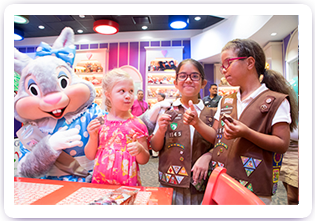 Media Contact
Jessica Mueller
Social Media/Content Strategist
407.396.1114 ext. 4519
JessicaM@gktw.org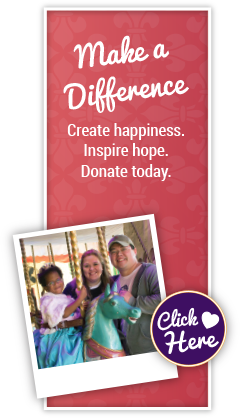 Orlando, FL (Jun 27th, 2017)
Families served by Give Kids The World Village in Kissimmee, FL will enjoy a special treat during their stay, thanks to a donation of more than 620 cases of Girl Scout cookies. Every year, Girl Scouts of Citrus donates cookies that were not sold during its eight-week cookie sale program to a non-profit organization in the community. The non-profit is selected based on its mission, organizational structure and community impact.
Give Kids The World Village is an 84-acre, nonprofit "storybook" resort, that provides weeklong, cost-free vacations to children with life-threatening illnesses and their families. The organization has welcomed more than 154,000 families from all 50 states and 76 countries on their wish trips since 1986; and are expected to serve 8,000 families in 2017.
Making a positive impact in communities has been a focal point of Girl Scouts since its inception in 1912. One of the many ways Girl Scouts of Citrus gives back to the Central Florida Community, is through the cookie donation. This year, the donation consisted of an assortment of Girl Scouts cookies with an estimated $30,500 in total product value. Girl Scout troops and council members worked alongside volunteers to hand deliver the cookies to families at the fairytale resort.
"Girl Scout cookies are an iconic 'feel good' item; they always bring a smile!" expressed Maryannn Barry, CEO of Girl Scouts of Citrus. "We are thrilled at the opportunity to support our friends at Give Kids The World in their mission to bring joy to children."
Securing and delivering the cookies would have been a significant financial undertaking if it were not for the donation of Central Moving and Storage. The company offered to donate their service and vehicles in order to successfully transport the full donation.
"It's our mission to give our precious children and their families an experience unlike any other," said Pamela Landwirth, president & CEO of Give Kids The World Village. "This wonderful donation of delicious Girl Scout cookies is a way for us to offer something very special to our families, and another sweet memory for our guests to savor and take home with them."
Together, these three organizations united their resources to bring something special and unique to families who delight in the smiles that Give Kids The World brings to the faces of their children, as they enjoy a respite from the stresses of a life-threatening disease.