Coasting for Kids Inspires Amusement Park Goers to Give Back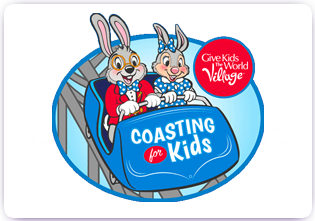 Media Contact
Jessica Mueller
Social Media/Content Strategist
407.396.1114 ext. 4519
JessicaM@gktw.org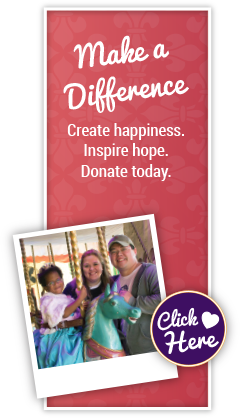 Kissimmee, FL (Jul 12th, 2017)
Roller coaster enthusiasts, amusement park fans and fun-seeking families are invited to enjoy a thrilling day in support of Give Kids The World Village. Several of America's popular amusement parks will welcome participants for exclusive days of fun that help support children facing life-threatening illnesses.
This year marks the return of the fan-favorite fundraising event: Coasting for Kids. New for 2017, everyone is invited to participate and explore all of the exciting attractions each amusement park has to offer, as well as ride classic and modern roller coasters.
Today, Busch Gardens Williamsburg announced its Sept. 9 Coasting for Kids event, which will be the third of the 2017 season. Frontier City Theme Park and Quassy Amusement & Waterpark are also partnering with Give Kids The World Village for events held in August and September.
Each park will host a limited number of participants for an event, featuring park entry, exclusive ride times and more.
Participants can register and create a personal fundraising page, or form a team for one or all events. Individual and team participants must raise at least $100 to enjoy complimentary admission, attractions and other exclusives of Coasting for Kids events. All money raised is donated to Give Kids The World.
Coasting for Kids began at one location in 2009, and the event grew thanks to the enthusiastic efforts of coaster participants in support of Give Kids The World. In six years, the event raised more than $500,000 towards the charity's mission of providing magical memories for children battling life-threatening illnesses and their families. With the return of Coasting for Kids in 2017, loyal supporters and first-time participants will pave the way for future events.
Coasting for Kids kicks off on Wednesday, Aug. 16, National Roller Coaster Day, at Quassy Amusement Park & Waterpark with pre-registration required. To learn more or get involved, visit coastingforkids.org.
###
About Give Kids The World
Since 1986, Give Kids The World Village has welcomed more than 154,000 families to its 84-acre "storybook" resort in Central Florida. Children with life-threatening illnesses and their families are treated to weeklong, cost-free vacations, complete with accommodations, donated attraction tickets, meals and more. For more about Give Kids The World, visit gktw.org.
About SeaWorld Parks & Entertainment
SeaWorld Parks & Entertainment™ is a leading theme park and entertainment company providing experiences that matter and inspiring guests to protect animals and the wild wonders of our world. The company is one of the world's foremost zoological organizations and a global leader in animal welfare, training, husbandry and veterinary care. The company collectively cares for what it believes is one of the largest zoological collections in the world and has helped lead advances in the care of animals. The company also rescues and rehabilitates marine and terrestrial animals that are ill, injured, orphaned or abandoned, with the goal of returning them to the wild. The SeaWorld® rescue team has helped more than 29,000 animals in need over the last 50 years.
The company owns or licenses a portfolio of recognized brands including SeaWorld, Busch Gardens® and Sea Rescue®. Over its more than 50-year history, the company has built a diversified portfolio of 12 destination and regional theme parks that are grouped in key markets across the United States, many of which showcase its one-of-a-kind zoological collection of over 800 species of animals. The company's theme parks feature a diverse array of rides, shows and other attractions with broad demographic appeal which deliver memorable experiences and a strong value proposition for its guests.
SeaWorld Parks & Entertainment is a wholly owned subsidiary of SeaWorld Entertainment, Inc., a publicly traded company. Visit seaworldentertainment.com for more.
About Quassy Amusement Park & Waterpark
Quassy Amusement Park & Waterpark is in its 109th year and features more than two dozen rides and attractions. New are children's interactive rides Skipper's Clipper pirate ships and Up, Up & Away balloons. Adults may also ride with their youngsters on the new attractions. Rides include the award-winning Wooden Warrior roller coaster, Reverse Time, Frantic, Music Fest, Yo-Yo super swings, Free Fall 'N' Drop Tower, Grand Carousel and more. The lakeside property is also home to Splash Away Bay. Quassy is located in Middlebury, Conn., on the shores of Lake Quassapaug. Visit quassy.com for more.
About Frontier City Theme Park
Frontier City is Oklahoma's oldest and largest theme park offering over 40 acres of fun for the entire family. The park invites guests to take a trip back in time at Oklahoma's classic theme park. The newly opened Gully Washer at Wild West Water Works offers a ride on the wild side. Frontier City is home to great shows, great rides and great times! Visit frontiercity.com for more.