Universal Orlando Resort and Give Kids The World Partner to Create an Unforgettable Vacation and Volunteer Experience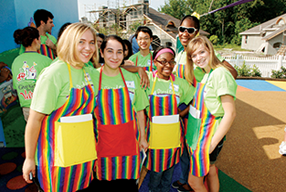 Media Contact
Jessica Mueller
Social Media/Content Strategist
407.396.1114 ext. 4519
JessicaM@gktw.org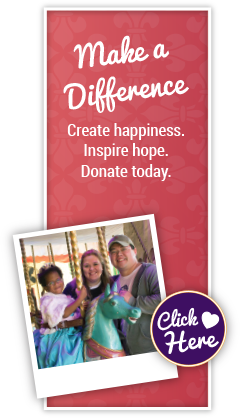 Orlando, FL (Apr 17th, 2013)
Universal Orlando Resort today unveiled a one-of-a-kind vacation package allowing guests to spend cherished family time in its theme parks and then to create unforgettable memories for children at Give Kids The World Village.
Give Kids The World Village (GKTW) is a 70-acre, nonprofit "storybook" resort that immerses children with life-threatening illnesses and their families in joy, hope, laughter and non-stop fun at Central Florida's world-class attractions.
With this vacation offer, guests will spend two days enjoying unparalleled thrills at the Universal Orlando theme parks and one day making the dreams of children with life-threatening illnesses come true as they come face-to-face with their favorite storybook characters, get their faces painted, receive makeovers and more. Universal Orlando will also donate $100 to Give Kids The World for every package booked.
"Give Kids The World is thrilled to invite Universal Orlando guests to expand the joy and memories of their vacation by volunteering at our Village," said Pamela Landwirth, president, Give Kids The World. "With their help, we will continue to create the happiness that inspires hope for more than 7,000 precious children and their families from around the world every year."
Families will have the opportunity to add a whole new experience to their vacations with numerous volunteer opportunities at Give Kids The World Village, including:
Character Photos - Volunteers will share the special moment when children come face-to-face with their favorite storybook characters.
La-Ti-Da-Spa - Volunteers assist with makeovers, including face-painting, nails, makeup, hand massage and airbrush tattoos. Volunteers 16 and older.
Gingerbread House - Volunteers engage in high interaction with special guests by serving breakfast, running food, refilling drinks, bussing tables and clean-up.
Express Breakfast - Volunteers serve breakfast food to-go and are responsible for greeting guests, taking orders and packaging food.
Volunteers must be a minimum of 8-years-old to participate and those under the age of 16 must be accompanied by an adult. Interested participants must complete an online application and waiver. Volunteers 18 and older are required to complete a background check.
For more information on this Give Kids The World vacation and volunteer package or other Universal Orlando Resort vacation packages, visit www.UniversalOrlando.com.
###
About Universal Orlando Resort
There are many ways to enjoy your Orlando vacation, but there is only one place where vacation becomes adventure: Universal Orlando Resort. It is a unique destination featuring two theme parks, three magnificently themed on-site hotels and a nighttime entertainment complex. It's the only Orlando destination where you are not just entertained - you become part of the most exhilarating entertainment ever created. You can soar above Hogwarts with Harry Potter, swing above the streets with Spider-Man, battle aliens alongside Agent J, and help Shrek save Princess Fiona in Shrek 4-D. Now open: the new, heart-warming and hilarious Despicable Me Minion Mayhem ride. And coming soon: Transformers: The Ride-3D.
Universal Orlando Resort is an NBCUniversal company.
Media Contact:
Universal Orlando Public Relations
http://media.universalorlando.com
(407) 363-8220
Follow Us on Facebook & Twitter:
www.Facebook.com/UniversalOrlandoResort
www.Twitter.com/UniversalORL