"Coasting For Kids" Raises More Than $150,000 for Children With Life-Threatening Illnesses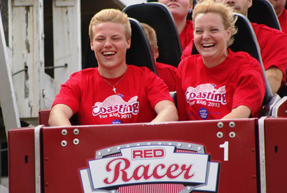 Media Contact
Jessica Mueller
Social Media/Content Strategist
407.396.1114 ext. 4519
JessicaM@gktw.org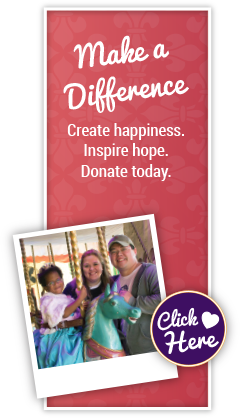 KISSIMMEE, FL (Jun 13th, 2013)
Daring roller coaster enthusiasts demonstrated once again that they have big hearts and enviable equilibrium as they participated in Cedar Fair's 5th Annual Coasting For Kids event, which raised more than $150,000 for Give Kids The World (GKTW).
The adrenaline-pumping event offered coasting fanatics complimentary admission to one of 11 Cedar Fair Entertainment Company parks across North America for the privilege of riding roller coasters a dizzying number of times. Many participants contributed far more than the $25 registration fee and a minimum fundraising contribution of $75, both of which were donated directly to GKTW. Jason Stull, of Glen Burnie, Maryland, a coaster enthusiast at Kings Dominion, took the top fundraising spot for the second consecutive year, raising more than $8,000. Theme Park Review, a participating coaster club, was the top fundraising coaster club, whose members were responsible for raising $50,000.
"Through the overwhelming generosity of Cedar Fair and that of the more than 400 coaster enthusiasts who participated in Coasting For Kids, children with life-threatening illnesses and their families will be able to experience the magic of our Village where happiness inspires hope," GKTW President Pamela Landwirth said.
Coasting For Kids, which began at one location in 2009, has grown tremendously over the last five years thanks to the tireless efforts of the coaster participants, Cedar Fair Entertainment Company and club sponsors including: American Coaster Enthusiasts, CoasterBuzz, Great Ohio Coaster Club, The Coaster Crew and Theme Park Review. To date, the event has raised more than $350,000 toward the charity's mission of providing magical memories for children battling life-threatening illnesses and their families.
"This year's riders showed an unparalleled level of dedication and enthusiasm," Cedar Point spokeswoman Annie Zelm said. "Many have been personally impacted by these special children and their families, and they know that the physical stamina it takes to make it through a day of continuous coasting isn't much compared to what a sick child endures. We hope to bring at least twice as many riders on board next year and in the years to come as Coasting For Kids gains momentum."
Participating parks included California's Great America; Canada's Wonderland; Carowinds; Cedar Point; Dorney Park; Kings Dominion; Kings Island; Knott's Berry Farm; Michigan's Adventure; Valleyfair and Worlds of Fun.
For photos of this year's event, click here.
###
Cedar Fair Entertainment Company
Cedar Fair is a publicly traded partnership headquartered in Sandusky, Ohio, and one of the largest regional amusement-resort operators in the world. The Company owns and operates 11 amusement parks, four outdoor water parks, one indoor water park and five hotels. Its parks are located in Ohio, California, North Carolina, South Carolina, Virginia, Pennsylvania, Minnesota, Missouri, Michigan, and Toronto, Ontario. Cedar Fair also operates the Gilroy Gardens Family Theme Park in California under a management contract. Cedar Fair's flagship park, Cedar Point, has been consistently voted the "Best Amusement Park in the World" in a prestigious annual poll conducted by Amusement Today newspaper.
Cedar Point Media
Annie Zelm
(419) 609-2067