Holiday Inn's Founding Family and Orange Lake Resorts Pledge $500,000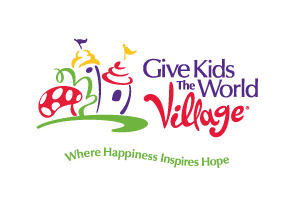 Media Contact
Jessica Mueller
Social Media/Content Strategist
407.396.1114 ext. 4519
JessicaM@gktw.org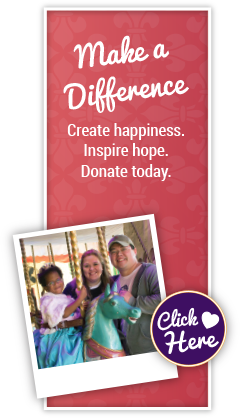 KISSIMMEE, FL (Aug 19th, 2013)
The children of Holiday Inn founder, Kemmons Wilson, along with their company, Orlando-based Orange Lake Resorts, have pledged $500,000 to Give Kids The World's five-year, $120 million Capital Expansion and Improvement Campaign. Their gift will go toward the construction of a new Town Hall, which will expand Give Kids The World's (GKTW) hospitality services.
The Wilson Family has been long associated with GKTW's founder, Henri Landwirth, since the 1960s when Kemmons first met Henri, who was the General Manager of the Holiday Inn in Cape Canaveral (Kennedy Space Center). Their friendship continued; and later, with encouragement from Kemmons, Henri became a Holiday Inn® franchise owner by opening the Holiday Inn Main Gate East on Hwy 192 in the early 1970s soon after Disney World Resort® opened. Widely known as a pioneer in the hospitality industry, Kemmons Wilson revolutionized how American families traveled when he founded Holiday Inn in 1952. And later, when Henri formed Give Kids The World, Kemmons and Holiday Inn hotels were among the first to provide financial support to help build the Village.
"My family has always had a special place in our hearts for Give Kids The World, which Dad and Mom believed in so strongly," said Spence Wilson. "It brought them great joy to see families who worked so hard to provide a strong, loving environment for their children as they struggled to overcome illness, gather together in a fun world of their own to renew and strengthen their bonds. In our eyes, these families are heroes and need and deserve the experience this wonderful organization provides. We are excited about the future of GKTW as we and our company make this pledge and continue the support initiated by our parents long ago."
"The Kemmons Wilson family indeed has been a loyal supporter of our mission since we welcomed our very first family at the Holiday Inn Main Gate East more than two decades ago, even before our Give Kids The World Village was created in 1986," said Pamela Landwirth, president, GKTW. "Since then, GKTW has been able to restore joy and provide hope to more than 122,000 children from around the world. On behalf of all the families who will be able to experience a week of magical memories, we extend our heartfelt gratitude to the Wilson family and Orange Lake Resorts for bringing us one step closer to making our Town Hall possible."
For more information on GKTW's Village Campaign, please visit: http://www.givekidstheworld.org/campaign. To learn more about Orange Lake Resorts, home to Holiday Inn Club Vacations, visit http://orangelake.com.
###
About Orange Lake Resorts and the Holiday Inn Club Vacations® Brand
The Holiday Inn Club Vacations brand was created in 2008 as a strategic alliance between IHG® (InterContinental Hotels Group) and Orange Lake Resorts, a leader within the timeshare industry with more than 30 years of proven success. The Holiday Inn Club Vacations flagship property in Orlando, Fla., located next to Walt Disney World® Resort, was established in 1982 by Holiday Inn® brand founder Kemmons Wilson. A 1,450-acre golf, water park and sports resort, Holiday Inn Club Vacations at Orange Lake Resort includes 2,478 villas with the ability to expand to 4,500 villas. Other resort locations include Lake Geneva, Wis., Panama City Beach and Marco Island, Fla., Brownsville, Vt., Myrtle Beach, S.C., Gatlinburg, Tenn. Galveston, Texas and Las Vegas, Nev. Holiday Inn Club members, owners of timeshare intervals at Holiday Inn Club Vacations resorts, enjoy access to these ten resort locations, plus IHG's network of more than 4,600 hotels worldwide. The Holiday Inn Club Vacations brand continues to look for opportunities to expand its Member Resorts to top North American destination locations.
For more information on the Holiday Inn Club Vacations brand or to book reservations, visit www.hiclubvacations.com. Find us on Facebook www.facebook.com/hiclubvacations or Twitter www.twitter.com/hiclubvacations,