Give Kids The World Takes on "Extreme Village Makeover"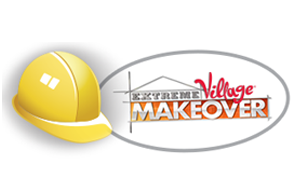 Media Contact
Jessica Mueller
Social Media/Content Strategist
407.396.1114 ext. 4519
JessicaM@gktw.org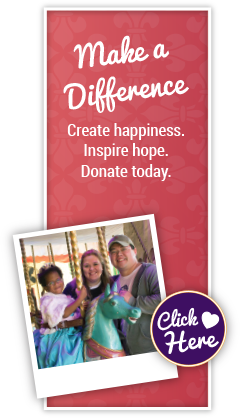 KISSIMMEE, FL (Jan 8th, 2014)
It will take 4,000 gallons of paint, 3,000 electrical outlets and light switches, and 100,000 sq. ft. of flooring material, and that's only the start of what will be needed for the Give Kids The World (GKTW) "Extreme Village Makeover" set for January 12-25, 2014. Nearly 100 of the Village's 140 villas are in need of renovation having been built in the early years of its 25 years of existence in Kissimmee, Florida. With friends like Wyndham Vacation Ownership, leading the way, the Village will be fully refurbished with new appliances, floors, countertops and other upgrades.
"Our plan was to gradually renovate our villas over several years, so when our friends at Wyndham offered to help us complete the remaining one hundred villas over a two week period, I was in disbelief," Pam Landwirth, GKTW president said. "Wyndham rallied their internal team and enlisted the support of countless others to make the dream a reality. The Extreme Village Makeover project will make a huge difference in the lives of the precious children we serve, ensuring that they and their families have a beautiful home away from home at the Village."
"We are honored to support Give Kids The World and the great work they do for these wonderful children and their families who benefit so much from their stays at the Village," said Sarah King, executive vice president of human resources for Wyndham Vacation ownership. "We are proud to be a part of the Extreme Village Makeover and thank every partner, contractor, supplier, contributor, volunteer and everyone who is making this wonderful two-week project a reality."
Extreme Village Makeover will kick-off with an ice cream social from 6-8 p.m. on Saturday, January 11 and conclude with a celebratory event on Saturday, January 25 from Noon-2 p.m.
For information about Give Kids The World's Extreme Village Makeover and how you can help, visit the Extreme Village Makeover site.
Additional details about Give Kids The World can be found at www.gktw.org.
###
About Wyndham Vacation Ownership
Wyndham Vacation Ownership, a member of Wyndham Worldwide's (NYSE: WYN) family of companies, is the world's largest vacation ownership business, as measured by the number of vacation ownership resorts, individual vacation ownership units and owners of vacation ownership interests. Wyndham Vacation Ownership develops, markets and sells vacation ownership interests and provides consumer financing to owners through its four primary consumer brands, CLUB WYNDHAM®, WorldMark® by Wyndham, Wyndham Vacation Resorts Asia Pacific and Shell Vacations. As of December 31, 2012, Wyndham Vacation Ownership had developed or acquired more than 185 vacation ownership resorts throughout the United States, Canada, Mexico, the Caribbean and the South Pacific that represent more than 23,000 individual vacation ownership units and more than 900,000 owners of vacation ownership interests. Wyndham Vacation Ownership is headquartered in Orlando, Fla., and is supported by more than 15,000 employees globally.