"Coasting For Kids" Gives Everyone a Way to Support Children With Life-Threatening Illnesses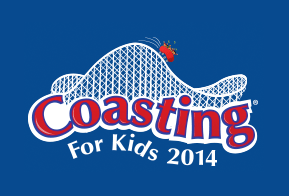 Media Contact
Jessica Mueller
Social Media/Content Strategist
407.396.1114 ext. 4519
JessicaM@gktw.org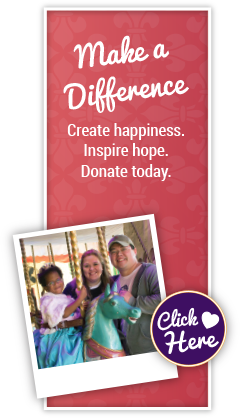 KISSIMMEE, FL (Apr 24th, 2014)
Roller coaster enthusiasts, thrill-seekers and even timid people with big hearts are making plans to participate in Cedar Fair's 6th Annual Coasting For Kids event, which raised over $159,000 for Give Kids The World (GKTW) in 2013. GKTW is a Central Florida nonprofit "storybook" resort that provides cost-free, weeklong vacations to children with life-threatening illnesses and their families from around the world.
With complimentary admission to one of 11 Cedar Fair parks across North America, Coasting participants will have the privilege of riding roller coasters a dizzying number of times. Each pays a $25 fee and raises an additional minimum of $75 using online tools with which they can seek support from their friends and families. Individual participants also compete for the title of Top Fundraiser, and receive prizes from the participating parks. All money raised is donated to Give Kids The World.
"Through the overwhelming generosity of Cedar Fair and that of the more than 400 coaster enthusiasts who participated in Coasting For Kids, children with life-threatening illnesses and their families will be able to experience the magic of our Village where happiness inspires hope," GKTW President Pamela Landwirth said.
Coasting For Kids, which began at one location in 2009, has grown tremendously over the last six years thanks to the tireless efforts of the coaster participants, Cedar Fair Entertainment Company and club sponsors including: American Coaster Enthusiasts, CoasterBuzz, Great Ohio Coaster Club, Negative-G, The Coaster Crew and Theme Park Review. To date, the event has raised over $378,000 towards the charity's mission of providing magical memories for children battling life-threatening illnesses and their families.
"We are honored to be a part of this great fundraising event for Give Kids The World," Cedar Fair Entertainment Company COO Richard Zimmerman said. "Both organizations want to provide families with a 'Best-Day-of-Summer' experience and we are thrilled that guest at our Cedar Fair parks have helped to raise more than $350,000 for Give Kids The World."
Participating parks include California's Great America; Canada's Wonderland; Carowinds; Cedar Point; Dorney Park; Kings Dominion; Kings Island; Knott's Berry Farm; Michigan's Adventure; Valleyfair and Worlds of Fun.
To learn more or get involved, visit CoastingForKids.org. For photos and video of last year's event, click here.
###
About Cedar Fair Entertainment Company
Cedar Fair is a publicly traded partnership headquartered in Sandusky, Ohio, and one of the largest regional amusement-resort operators in the world. The Company owns and operates 11 amusement parks, four outdoor water parks, one indoor water park and five hotels. Its parks are located in Ohio, California, North Carolina, South Carolina, Virginia, Pennsylvania, Minnesota, Missouri, Michigan, and Toronto, Ontario. Cedar Fair also operates the Gilroy Gardens Family Theme Park in California under a management contract. Cedar Fair's flagship park, Cedar Point, has been consistently voted the "Best Amusement Park in the World" in a prestigious annual poll conducted by Amusement Today newspaper.