G.I. 'Jackson' Gives Makeover to Wish Child at Give Kids The World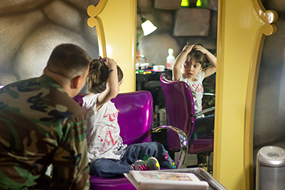 Media Contact
Jessica Mueller
Social Media/Content Strategist
407.396.1114 ext. 4519
JessicaM@gktw.org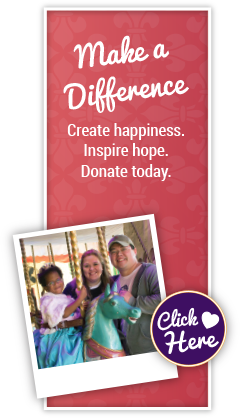 KISSIMMEE, FL (Dec 10th, 2014)
What do a paratrooper, nail polish, and the wish of a five-year-old girl have in common?
All came together at Give Kids The World (GKTW) Village for a truly unique experience. Natalie, a child with a life-threatening illness whose wish was to go to Walt Disney World® Resort, had another wish in mind when she was asked by Make-A-Wish® Greater Pennsylvania and West Virginia—to get a make-over done by the one and only, G.I. Joe. While G.I. Joe was unavailable, GKTW's G.I. 'Jackson' showed up donned in a camo jumpsuit and military red beret, armed with pink nail polish and cotton balls.
Give Kids The World's very own G.I. 'Jackson,' played by Manager of Support Services Christopher Jackson, was happy to help the cause.
"Natalie was a true cadet during her makeover—taking charge and giving orders. Her unique wish was one mission I will never forget," Jackson remarked.
Jackson is a real life hero himself, serving for 13 years in the United States Army and was deployed to Iraq from 2003-2004 with the 82nd Airborne and in 2012 with the 5th Brigade, 1st Armored Division.
Natalie received a full treatment at the Village's Twinkle Hope's La-Ti-Da Royal Spa, including airbrushed princess tattoos, a manicure complete with polish, which Jackson skillfully applied, and face painting.
"Natalie's father serves in the U.S. Armed Forces and, because of that, she also loves the character, G.I. Joe," said Dana Antkowiak, Manager of Marketing and Communications at Make-A-Wish® Greater Pennsylvania and West Virginia. "Combine that with a five-year-old's fascination with princesses and suddenly we have G.I. Joe, or 'Jackson' in this case, giving a princess-themed makeover. We owe a huge thank you to the newly recruited makeup artist, G.I. Jackson, and everyone else at Give Kids The World who helped bring even more joy to Natalie for her wish-come-true."
"We have countless wish children who hold special wishes in their hearts and regardless of how much time and effort, Give Kids The World is always willing to go the extra mile to make them come true," said GKTW President Pam Landwirth. "Some are simple and some, like G.I. Jackson take a little more effort but always result in the best gift of all, smiles on the faces of these precious children."