Papa John Delivers Pizza and Hosts Party at Give Kids The World Village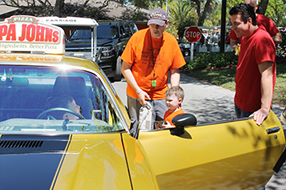 Media Contact
Jessica Mueller
Social Media/Content Strategist
407.396.1114 ext. 4519
JessicaM@gktw.org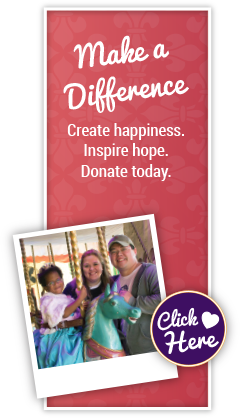 (Apr 22nd, 2015)
After over a year of planning and preparation, Papa John himself visited Give Kids The World Village to treat wish children and their families to a day of fun, smiles and, of course, delicious Papa John's Pizza.
In town to host a convention of his corporate and franchise executives, Papa John personally delivered pizzas to several wish families in his signature 1972 Camaro Z-28 before hosting a pizza party at the Village's Park of Dreams pool. Papa John stayed at the party for several hours taking pictures, signing autographs, and serving pizza.
But the generosity didn't stop there. Papa John's team members also volunteered their time, helping with various projects around the Village property, such as cleaning, planting and even painting rocking chairs for each of the Village's 144 villas.
During the convention, GKTW President Pamela Landwirth spoke to more than 1,000 Papa John's team members, describing what makes the Village such a special place for children with life-threatening illnesses. Pam's heartwarming stories of hope touched the hearts of the attendees as she described a place where children facing the stresses of medical challenges transform into typical kids, laughing with their families and having an opportunity to simply relax and have fun.
Papa John's will now be a part of the Village's story, having just announced an initiative to annually raise funds in support of a new program that includes serving pizzas to wish families in the nearly completed Towne Hall. Corporate stores are on board and franchisees were also encouraged to sign up to participate in a nationwide coupon promotion.
Welcome to the Village, Papa John's. We are honored and grateful to each of the thousands of employees and stores who are now part of the Give Kids The World family. We look forward to a lasting partnership that helps provide these precious children with the happiness that inspires hope.