Central Moving & Storage Deliver Sweet Snacks to Give Kids The World Village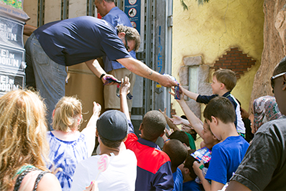 Media Contact
Jessica Mueller
Social Media/Content Strategist
407.396.1114 ext. 4519
JessicaM@gktw.org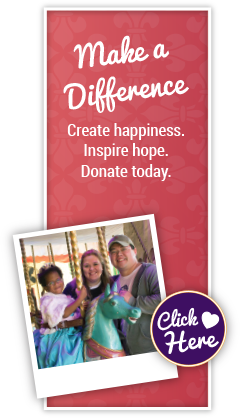 KISSIMMEE, FL (May 26th, 2015)
It was such a sweet Tuesday in the Village on May 26, 2015, when three truckloads of candy and snacks arrived in semi-trailers supplied by Central Moving & Storage. The goodies were donated by the members of the National Confectioners Association after they completed their "Sweets & Snacks Expo" in Chicago, an annual event held at the city's McCormick Place.
Media, volunteers, wish families and staff waited with anticipation as the first truck parked and the doors were opened. Families came prepared to greet the trucks with Trick or Treat bags and clothes with lots of pockets to store as much candy as possible. Candy and snacks fell all over the roadway between the Castle of Miracles and Gingerbread House and the children screamed with excitement. The three truckloads of treats will be primarily used during the weekly GKTW Halloween parties.
Give Kids The World Village wants to give a special thanks to Central Moving & Storage, Boerman Moving, and the National Confectioners Association, and all who donated treats following the Sweets & Snacks Expo.