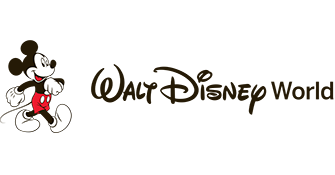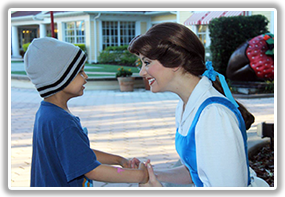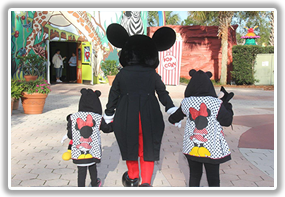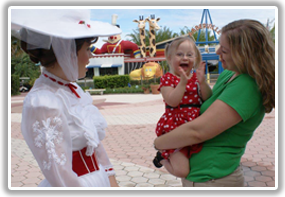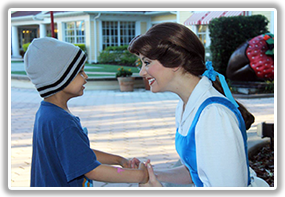 Walt Disney World® Resort is a founding partner of Give Kids The World Village, and its commitment to our cause remains as strong as ever.
For many families with children who have a life-threatening illness, taking a trip to Walt Disney World is a dream that is far beyond reach. With Walt Disney World's support, Give Kids The World makes that dream come true at the Village and all four of Walt Disney World's parks: Magic Kingdom® Park, Epcot®, Disney's Hollywood Studios®, and Disney's Animal Kingdom® Theme Park.
At the Village, wish children receive their very own Mickey plush, Disney characters visit twice a week and thousands of Disney VoluntEARS contribute their time and talents to our families all year long.
At the parks, a special GKTW button and a Walt Disney World Wishes Pass provides the families with an alternate entrance to all of the rides, allowing families to fully enjoy the attractions offered at each park. Disney even provides a Wish Lounge located at Magic Kingdom. The Wish Lounge offers families a comfortable place to rest as well as light refreshments, DVDs, games, books and more.
It is a special partnership that creates smiles and laughter for all our wish children. With the incredible support of Walt Disney World Resort, Give Kids The World Village fulfills thousands of magical wishes deep within the hearts of brave kids all around the world.