Give Kids The World Village Named One of Central Florida's Top 100 Companies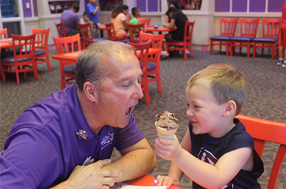 Media Contact
Jessica Mueller
Social Media/Content Strategist
407.396.1114 ext. 4519
JessicaM@gktw.org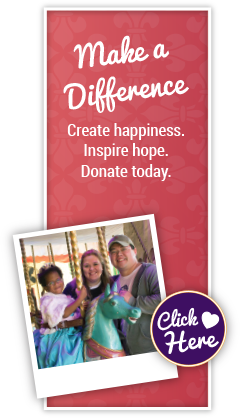 Kissimmee (Sep 2nd, 2016)
Give Kids The World Village, a nonprofit resort for children with life-threatening illnesses and their families, has been selected as one of the 2016 Orlando Sentinel Top 100 Companies.
GKTW is proud to receive this award, which identifies and honors the best companies to work for in the Orlando area. The Village was selected – for the eighth time – based on the quality of its employee benefits, its family-friendly policies and the results of an employee satisfaction survey.
"This distinction is especially meaningful as it shows that our staff recognizes and appreciates our efforts to create the best possible work environment," said Pamela Landwirth, president & CEO of Give Kids The World Village.
Earlier this year, business, government and nonprofit organizations from across Central Florida participated in a two-part survey to determine the Orlando Sentinel Top 100 Companies. The first part consisted of evaluating each nominated company's workplace policies, practices, philosophy, systems and demographics.
The second part consisted of an employee survey to measure the employee experience. The combined scores determined the top organizations and the final ranking. Best Companies Group managed the overall registration, survey and analysis process and determined the final rankings.
To be considered, companies were required to be a for-profit or nonprofit business or government entity located in Central Florida, have at least 15 employees on staff and have been in business for at least one year.
Celebrating its 30th anniversary in 2016, Give Kids The World has welcomed more than 146,000 children and their families from all around the world, fulfilling a wish to visit Orlando's theme parks and other attractions. Working with nearly 240 wish-granting organizations, GKTW fulfills the vacation dreams of nearly 8,000 children and families each year.
Families find happiness and hope at the "storybook" nonprofit resort, staying in whimsical villas, enjoying delicious meals, rides and entertainment designed for children, including those with special needs. Donated admission tickets from Walt Disney World Resort, SeaWorld Orlando, Universal Orlando and others round out the experience for families.
For more information about Give Kids The World Village, visit GKTW.org. For more information on the Orlando Sentinel Top 100 Companies program, visit www.Top100CompaniesORL.com