VILLAGE TOUR
Venues
Click the icons below to view pictures and video of some of the Village's iconic venues.
CHARACTERS
Click the images below to find out more about the Village's very own family of characters.
Venues
Check out some pictures of some of the Village's iconic venues.
House of Hearts
This is the "heart" of Give Kids The World's Guest Services, where our wish families check-in and attend orientation.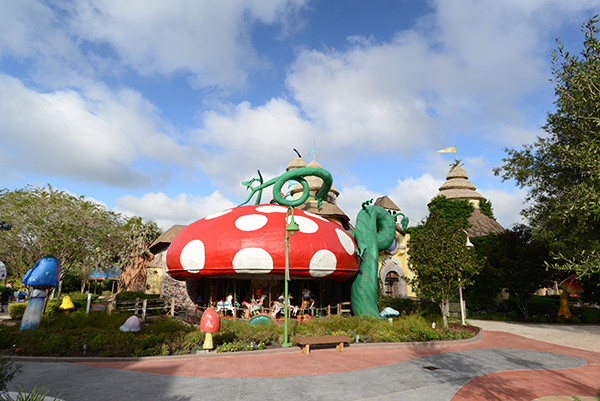 Castle of Miracles and Enchanted Carousel
The Castle of Miracles is the Village's most iconic venue. Inside you'll find Twinkle Hope's La-Ti-Da Royal Spa, a mysterious forest, a wishing well that burps and moos, Rusty the friendly guard, a magic tree that makes pillows and more. Just outside is the ever-popular, wheelchair-accessible Enchanted Carousel. What makes the Castle so special are the thousands of stars that fill the ceiling and adjoining Star Tower. Every wish child gets a star to personalize and is helped by Stellar the Star Fairy, who places their stars and invites them back the next day to see them shining above.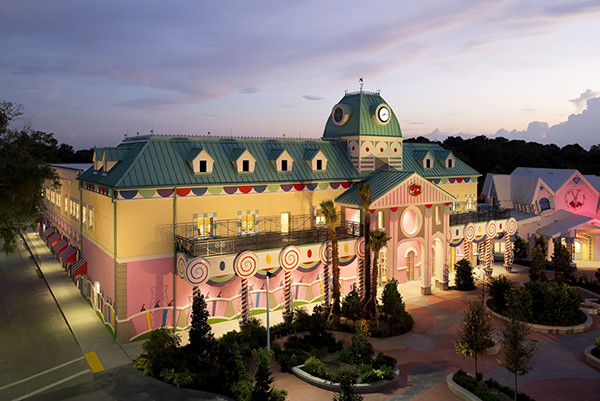 Towne Hall

Towne Hall is a 53,000 square-foot, two-story building covered in chocolate kisses, swirly lollipops, and colorful gumdrops. Inside are various dining options at Café Clayton: Nancy's Kitchen, Mama Merry's Pizzeria, Katie's Kitchen, and a salad bar. All dining takes place in the Gingerbread House. When Florida's summer thunderstorms comes knocking on our door, The Hoppening Place serves as the perfect gathering area for our nightly entertainment.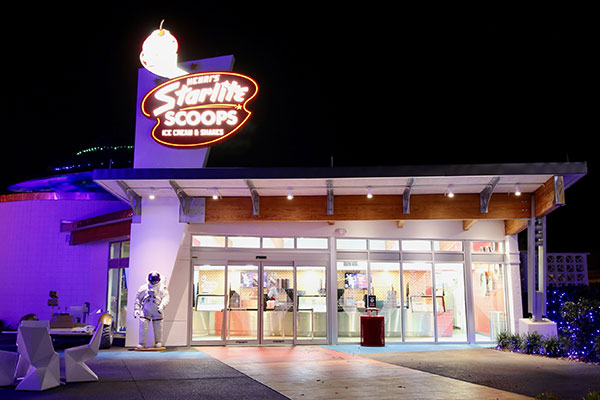 Henri's Starlite Scoops Pop-Up Ice Cream Parlor
Henri's Starlite Scoops Pop-Up Ice Cream Parlor is the place where the whole family can enjoy ice cream - morning, noon, or night. Some families even have ice cream for breakfast! We'll be operating our pop-up shop until the opening of Henri's Starlite Scoops, a new ice cream parlor coming to the Avenue later this year.

---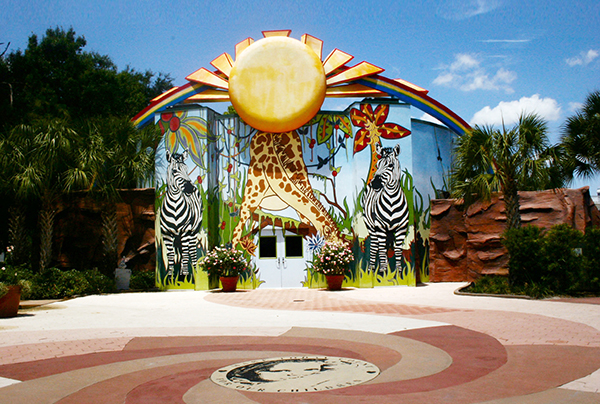 Julie's Safari Theatre
This is the place where families can sit back with some popcorn and catch a flick together!
Amberville Train Station
Amberville is an interactive train station that includes a model railroad, a waterway with remote-controlled boats, train memorabilia, an interactive video arcade, billiards and the latest Wii and XBOX 360 games. Families can take a ride on the wheechair-accessible JJ's Express, located just outside of Amberville's back door.
Marc's Dino Putt
Marc's DinoPutt is a 7-hole miniature golf course filled with friendly dinosaurs, a glow-in-the-dark cave, a water fall and more.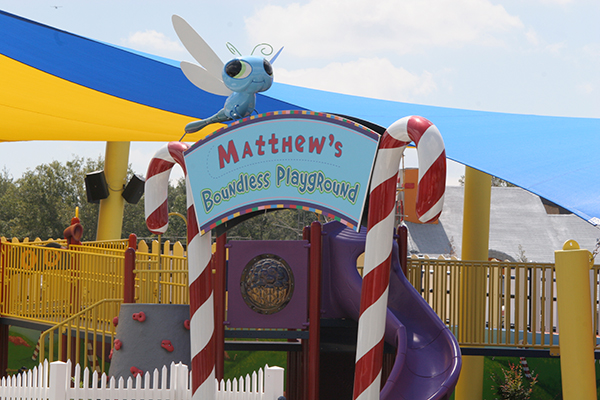 Matthew's Boundless Playground
This unique playground brings the beloved children's game CANDY LAND to life and offers fun around every corner for children of all ages, regardless of their physical limitations.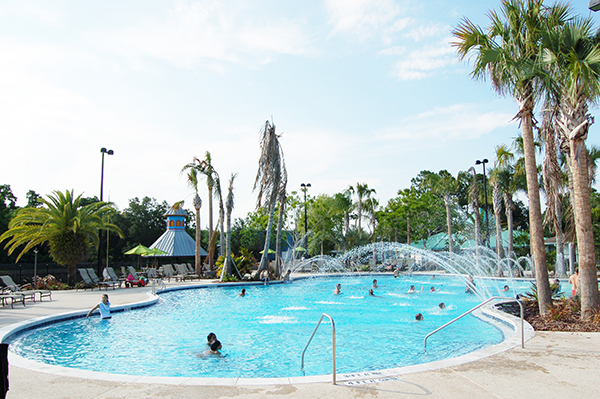 Park of Dreams
The Park of Dreams features an interactive water garden and a wheelchair-accessible pool where children of all abilities can experience flowing, jetting and misting water fun. This is home to Serendipity, an 80-foot long ship complete with a stage for many of our nightly entertainment shows. If families are looking for a snack, Noah's Nook offers hotdogs, popcorn, ice cream and more.
Twinkle Hope's La-Ti-Da Royal Spa
At Twinkle Hope's La-Ti-Da Royal Spa, wish children are pampered with face-painting, nails, makeup, and airbrush tattoos!
JJ's Express Train
Choo choo! All aboard! JJ's Express is a wheelchair-accessible train that circles the Amberville pond and chugs through a jungle and cave.
Enchanted Carousel
The Enchanted Carousel is always a highlight for families at the Village. They can experience the magical, wheelchair-accessible ride whenever they like!
Lori's Magical Flight
Lori's Magical Flight is a wheelchair-accessible, butterfly-themed ride designed to accommodate all guests – including those with physical disabilities. It features six, hang-glider style cars that gently fly in a circle. Each is equipped with pedals that riders use to make the cars swoop up and down. Guests unable to pedal can instead use hand cranks.
Keaton's Korral
Twice a week, Keaton's Korral transforms from a quiet patch of land into the Village's very own trail ride. Wish children and their siblings have the chance to saddle up and enjoy a ride upon a mighty pony or trusty steed. After their morning ride, each brave buckaroo receives a cowboy hat symbolizing his or her courage – just like legendary cowboys.
Happy Harbor Fishing Pond
Families get to enjoy a Florida past time together at this unique, sheltered fishing hole. It's even specially adapted with a railing that allows wheelchairs to pull up close and get a firsthand look at all the fishing fun.
The Village Chapel
At our nondenominational chapel, families can fulfill any spiritual needs.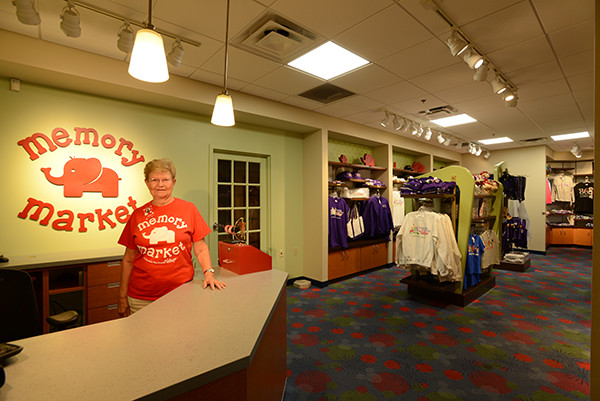 Memory Market Gift Shop
The Memory Market gift shop offers families and volunteers the chance to take a little bit of the Village home with them. Souvenirs ranging from Village-themed apparel, jewelry, household items and much more. This special memorabilia is also available in the online store.
Mayor Clayton and Ms. Merry's House
The home of our very own Mayor Clayton and his wife, Ms. Merry. Families can walk through the garden and enjoy the peaceful fish pond.
Ol' Elmer
The Village is full of all kinds of fun and magical sounds – laughter, the cheerful song of a bird, friendly hellos, and even the snoring of the Village's giant, slumbering tree, Ol' Elmer.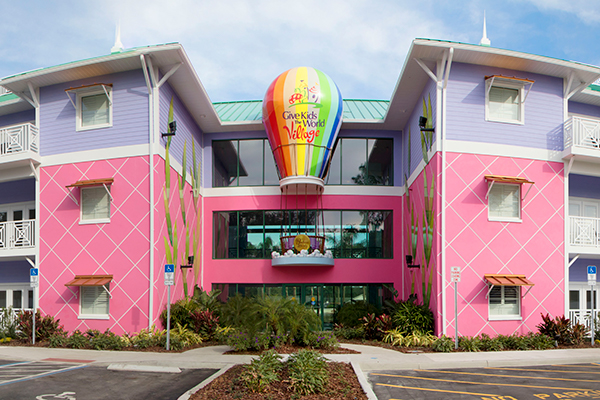 Banyan Park
This 24-villa complex, which opened in November 2016, includes three stories of guest accommodations, a basketball court, and a beautiful mural depicting iconic venues found throughout the Village.
Villas
Your accommodations will include a villa with 2 bedrooms/2 bathrooms, washer/dryer, kitchenette with microwave, refrigerator, and tea pot, phones, cable TV, and DVD player, hair dryer, iron, ironing board, crib, pull-out couch, roll-away bed, linens, towels, pool towels, dish detergent, laundry detergent, toilet paper, and paper towels.
Bed rails are available for the kids twin-size beds.
Each villa allows for wireless internet access. While YouTube is accessible, any other video streaming is not accessible.
While housekeeping services are available, daily maid service is not provided to allow you and your family to create a comfortable, uninterrupted atmosphere during your stay.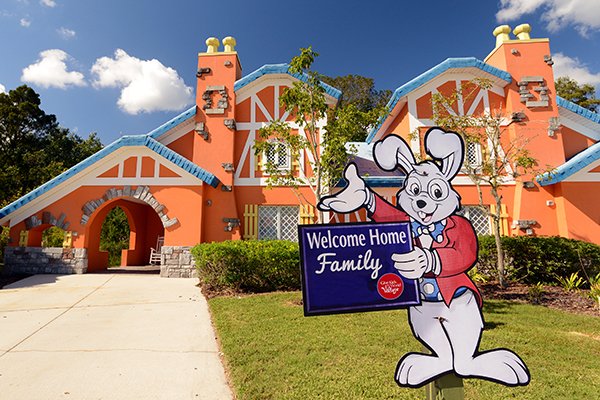 Welcome Home
Just one the of the many whimsical villas at the Village. Welcome home...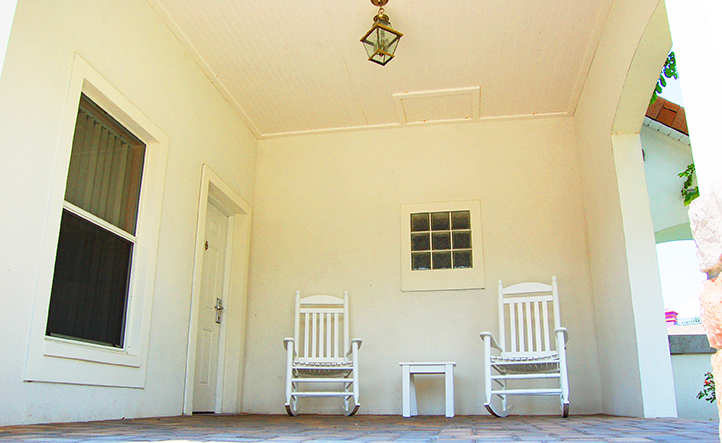 Porch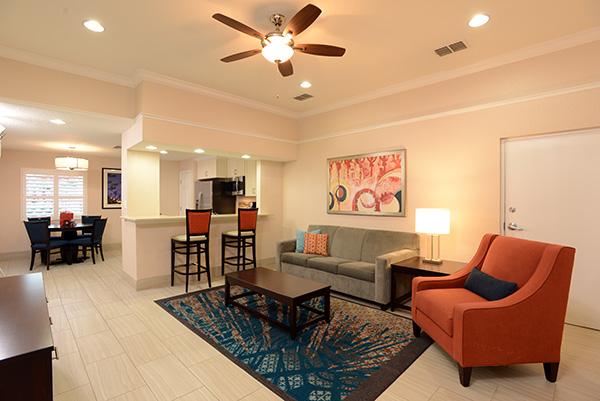 Living Room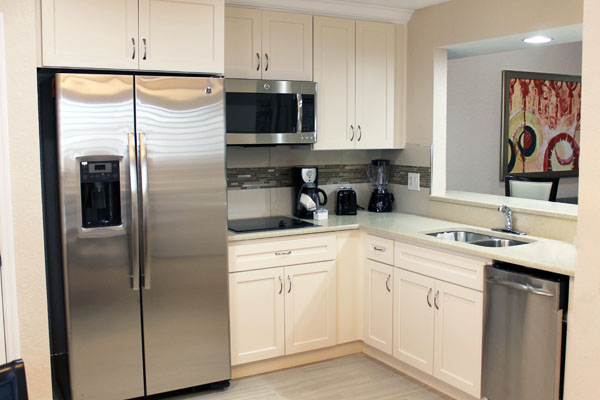 Kitchen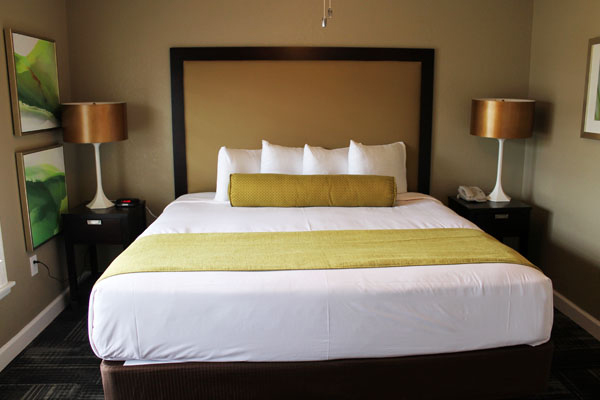 Master Bedroom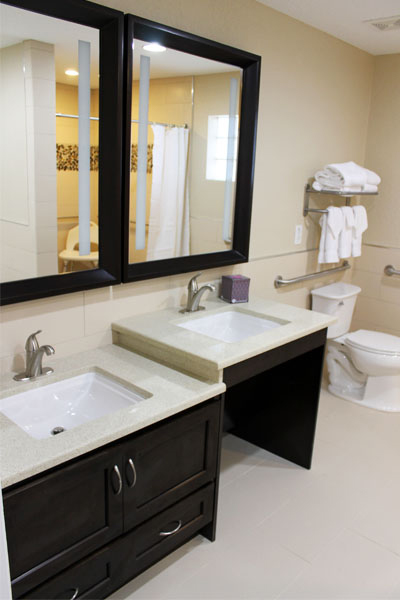 Master Bathroom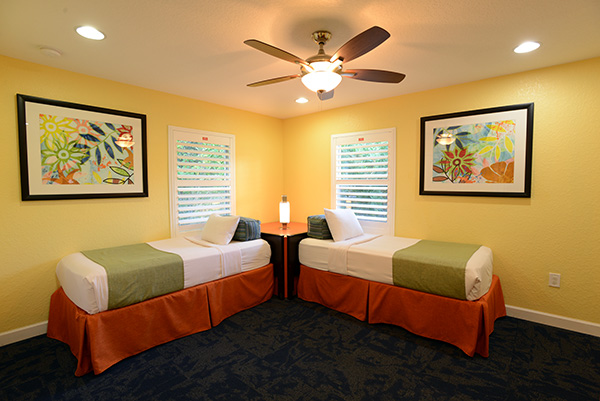 Kids' Bedroom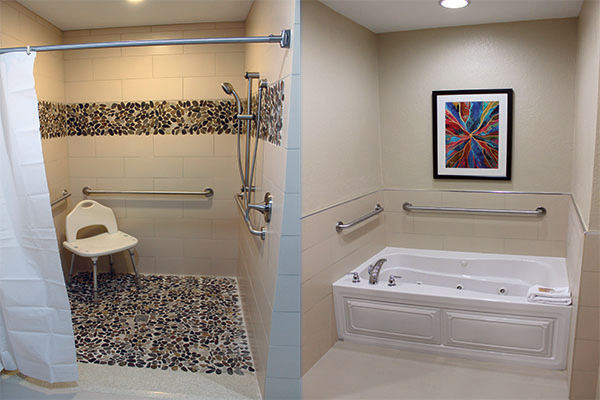 Kids' Bathroom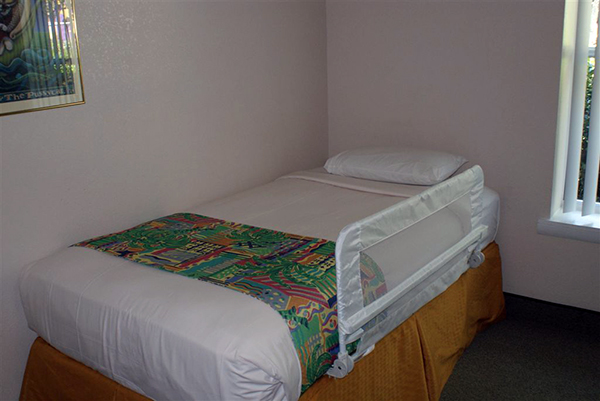 Bedrails Available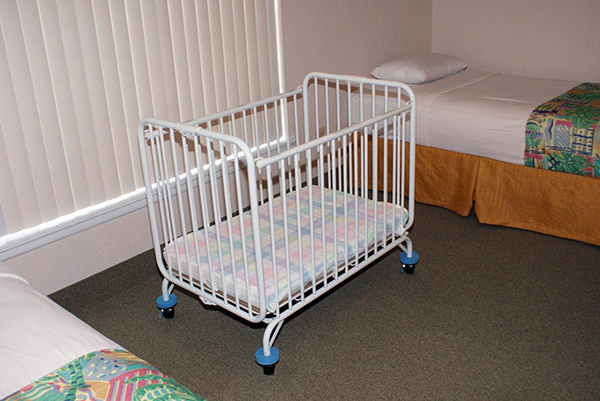 Cribs Available