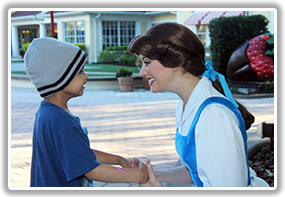 Theme Parks & Attractions
Complimentary theme park tickets will be provided for Walt Disney World, Universal Orlando and SeaWorld Orlando. Tickets for other parks and attractions are available at the Front Desk. You can check out a list of more available attractions here or get the entire scoop from our Village App.
Show
Give Kids The World is pleased to offer complimentary and discounted tickets to Medieval Times Dinner & Tournament.
Shopping
Give Kids The World is proud to offer a wide variety of gifts and memorabilia in Memory Market, located on the Avenue just across from Henri's Starlite Scoops. Gifts can be also be purchased online at the Give Kids The World online store.
In addition to our store there are several malls, shopping centers and outlet centers, as well as the gift shops at the theme parks.
For a complete listing of these and other services, please download the Village App.