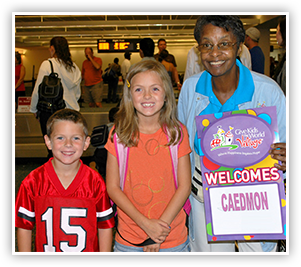 Airport Information
A Give Kids The World airport greeter will meet you at baggage claim. Look for a colorful sign with the wish child's name on it.
Please share your cell phone number with us by emailing dreammakers@gktw.org. If there are any flight changes or urgent situations, we can help.
Your greeter will escort you to the baggage claim area and your designated ground transportation (rental car or shuttle).
Please contact our airport office (407.825.2325) or Give Kids The World Guest Services (407.396.1114) if you aren't met by a greeter, or have any questions..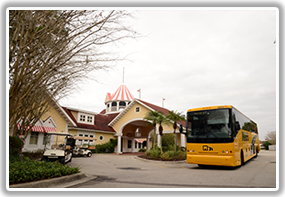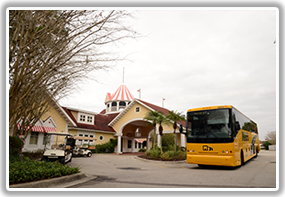 Transportation Information
Rental Car - The airport greeter will review the driving directions from the Orlando International Airport or Sanford Orlando Airport to Give Kids The World Village.



From Orlando International Airport, you can expect a 35 minute drive. You'll need $2 in change to cover unmanned toll booths.
From Sanford Orlando Airport, you can expect a 60 minute drive. You'll need $8 to cover toll booths.



Mears Shuttle Service - the airport greeter will assist you with catching the shuttle. Then, you can sit back, relax and enjoy the scenery.
Train - special arrangements will be made to greet you at the Kissimmee Amtrak Station.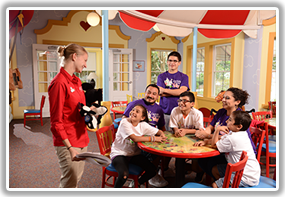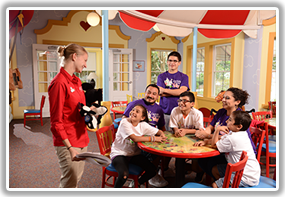 Checking in at the Village
Welcome Home! Once you arrive to Give Kids The World Village, we will check your family in and show you to your villa.
Our Guest Services team will provide your theme park tickets along with lots of other goodies—like gifts for the kids, and villa keys (If you'd like to prepare in advance, download our app from the iTunes store or Google Play store. Once downloaded, just enter "GKTW" as the hotel code).