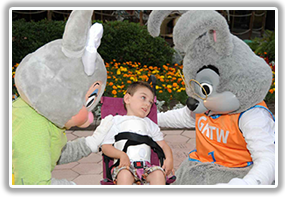 THE PRECIOUS GIFT OF TIME
Dear Friends at Give Kids The World,
Give Kids The World Village is a remarkable place. You made Christopher's wish more than he could have ever asked for. Not only did he meet Mickey Mouse and other characters, he also went swimming, trick-or-treating, played with bubbles and the great train set, made a pillow from a magical tree, got tucked into bed by Mayor Clayton, rode a carousel in his wheelchair, became a pirate, and rode a horse for the first time.
Christopher was sick with a cold during our stay and needed more respiratory treatments than normal, so we were unable to spend too much time at the theme parks. But, staying at the Village, none of us felt we were missing anything.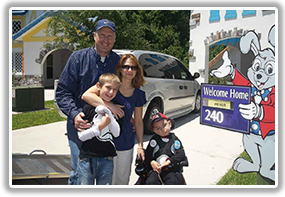 Our time together as a family with you was precious. It was a week of no doctor or therapy appointments, writing letters to insurance, or making phone calls. We could just rest, relax and enjoy each other. It was a place we fit in. No one stared at Christopher or looked at him with pity. I could tube feed him poolside, comfortably, because it was not odd to have others with tubes at the pool. It was a week where everything was wheelchair accessible, and we did not have to struggle to get around and do things with Christopher. We were a normal family for a week. What a gift!
During one of our quiet moments, we went to the Gallery of Hope and learned about Henri Landwirth. What a great man! A true inspiration! We have already read the two books purchased at the Memory Market Gift Shop, and many of our friends and family are interested in his story and Give Kids The World Village. It is easy to see where the dedication and sense of service your employees and Angels come from. We were truly humbled by learning about Mr. Landwirth and staying at the Village. I know our lives have been changed forever.
Thank you ever so much,
Christopher's Family, Schnecksville, PA