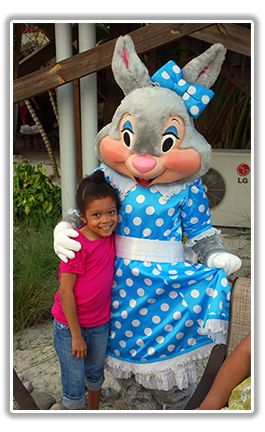 A WEEK OF FIRSTS
Dear Give Kids The World Village,
I've struggled with how to say "thank you" in such a way that would fully incorporate the magnitude of this trip and how it blessed our family. Since thank you doesn't cover it, I hope that sharing our experiences with you highlights just how special this trip was to the Thompson Family.
There were many firsts for our family on this trip. This was our first extended vacation, our first flight as a family, our first time visiting Give Kids The World Village and our first time visiting Disney World. These firsts will remain in our memories for a lifetime.
Upon our arrival we were greeted by a volunteer couple from Arizona. It was nice to be greeted so warmly at the airport, and the sign with Kaliya's name was a beautiful touch.
A short while later we arrived at the gates of Give Kids The World Village and our adventures began.
Thank you for the extreme care that went into designing the villas. You truly thought of everything. It allowed us the comforts of home without overpacking. Our family was able to relax; that was so important to us.
The Village grounds were beautiful and whimsical, something both children and parents can enjoy. The Park of Dreams will likely remain my daughter's favorite area, with the Ice Cream Palace running a very close second.
We enjoyed so many festivities held on the grounds and were delighted to see so many theme park characters pay the Village a visit. I was thankful because there were days when we weren't able to get to the parks and didn't feel like we missed anything. The personal touches that involved Kaliya's star and pillow were very sentimental touches for us.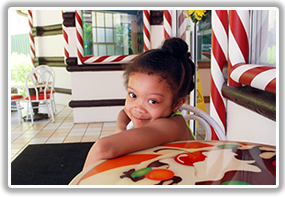 Our daughter enjoyed horseback riding, the parties and the daily treats left by the gift fairy. The life-sized CANDY LAND game was a well-received gift. We have pictures of our family playing it one night showing off all our game faces—the competition was stiff!
Thank you for providing a video camera and providing pictures and videos for our journey back home. It's those personal touches we found extra endearing, just knowing that our memories were being captured and taken so seriously.
Thank you for all that you have done to allow families to fulfill wishes and have the opportunity to vacation worry-free. We truly enjoyed our stay.
Continued Blessings,
Kaliya's Family